Happy June folks 😎
Another month gone. Time flies when you are busy and working on great things. 
We launched our community on January the 26th so we are now four to five months in this journey. This space keeps growing and I can't wait until we reach the 5,000 member mark. I know, it's just a number, but my ambition was to reach 5,000 by June and it looks like we are pretty much on track!
June is Pride Month  
and our colleague Tomi is driving some really cool content on social media. Make sure to follow us on LinkedIn, Twitter, Instagram and all those other platforms. This is a recent example of one of our LinkedIn posts. Shout out to Typeform's designer @Debi for this fab illustration for the campaign: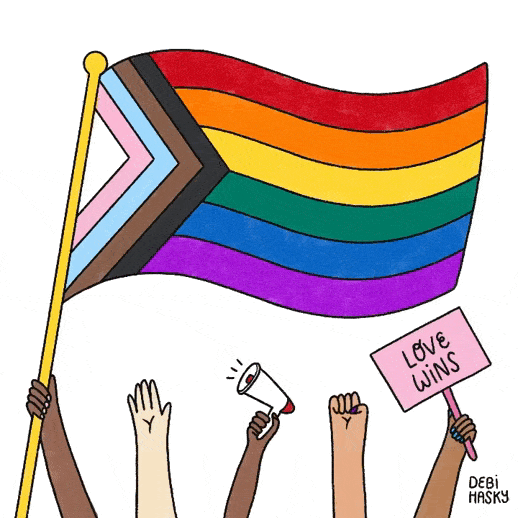 In May we kicked off an initiative called Typeform Love, which is a formal way to say thank you to our most valuable community members. So, if you have received a typeform by our one and only Mariana, you should be hearing from us at some point in the coming weeks. I'm sure you are biting your nails waiting for the surprise 
I want to take this opportunity to congratulate James, Liz, Des and Locus.ly - @JustinV22 -  for the fantastic two first episodes of Workspace Invaders. This is so far one of my favourite community initiatives and I can't wait for more folks to participate and show our wider community the incredible stuff they are building with Typeform. 
Once again, Let us do a recap of some of the content highlights from last month:
Meaningful Mondays – Typeform's Director of Brand, @paul  was on top form as he dished up his weekly serving of wisdom to help make Mondays matter more.
Workspace Invaders – A new series swooped onto the community this month in the shape of Workspace Invaders 👾!

Des kicked off the series by telling us about how he's turning his love of coffee & humour into a business with Typeform.

@Liz and @James  then caught up with Justin from Locusly who lifted the lid on the outcome quiz that's helping them launch a ground-breaking new service to help scientists plan experiments more quickly.
Webinar: Typeform's journey towards accessibility – We marked Global Accessibility Awareness Day with a fascinating talk from @Yuri  and Olga about what Typeform is doing to become accessible.
The Ultimate video marketing starter pack – @joannadelaney from the VideoAsk team gave us a heads-up on a cool new free content pack to help you get your video marketing off the ground, including a guide to doing lead generation with VideoAsk. 
Office Hours – @picsoung, Liz, James and Des got together to discuss some of the cool things you can do for some of Typeform's newest integrations. 
Look out for more great content coming in June including a fresh wave of Workspace Invaders, weekly live events, and a new video tips section to help you make the most of Typeform. Let us know in the comments if there are particular topics you'd like us to cover!
Now, the most important bit. Thank you to all our community members and especially the most active ones, such as:
@vickioneill @john.desborough @jamesdcs @Sarah-Jane @mathio @doume06 @Michaela @Peter B @Irina @steve @lexieb @C_W_ and the rest of our great contributors. 
May the forms be with you!