It's my pleasure to introduce our Typeform Love program to the community!
What is Typeform Love?
Typeform Love is about Typeform showing appreciation towards our most active and valuable community members. 
We really want to thank those who regularly contribute to our community and create awesome content. So we came up with Typeform Love! 
Who is eligible for getting Typeform Love?
Any member of the Typeform and VideoAsk community (regardless of plan) that contributes to the community (community.typeform.com) on a regular basis and/or takes part in one of our inspiration content series (webinars, case studies, etc). 
How do we know who are the most active members? 
The community back end gives us a very accurate view of who the most active members are on a monthly basis: views, posts, answers provided, likes, etc. We'll use those reports to understand who we should send our Love to. 
Note: when we say activity we mean 'meaningful activity'. This can come in two ways:
(1) contributions that help our community get better at using our tools and connect with their audiences. 
(2) behaviours that contribute to making our community a safe and friendly for everybody.  
The more active you are, the more Love you receive! ❤️
When do we send Love?
Typeform Love is a discretionary reward program, which means that we'll send rewards whenever we possibly can and deem appropriate. Sometimes it might be monthly, bi-monthly or quarterly. There isn't a fixed 'frequency' for this program but we'll try to be as consistent as we can. 
We'll send Love whenever possible but we can't anticipate when or how many people will receive the Love. 
What sort of Love can we send?
There're three types of Love: swag, digital rewards and 'subscription discounts. 
Swag: we send beautiful Typeform swag to those who participate in our webinars, case studies (workspace invaders) or any other community initiative where you contribute with our team in creating great content. 
Digital rewards: these could be tokens to be redeemed in online stores or, even better, donations to nonprofit organizations doing good around the world. 
Subscription discounts: for those members who constantly go above and beyond we will, from time to time, offer a discount voucher for a Typeform or VideoAsk subscription. We have a secret formula - based on community activity - to determine who is and isn't eligible for discounts. In a nutshell, to be eligible for this type or reward you have to be actively contributing on a daily basis. 
The Typeform team will decide when to send which type of reward – this will depend on availability or strategic decisions. 

How does redeeming work?
This should be pretty straightforward. If you're one of the Typeform Love recipients, you will receive an email from rewards@reward.tremendous.com titled "Typeform sent you a reward - XXX". After clicking on the email you'll have a chance to redeem.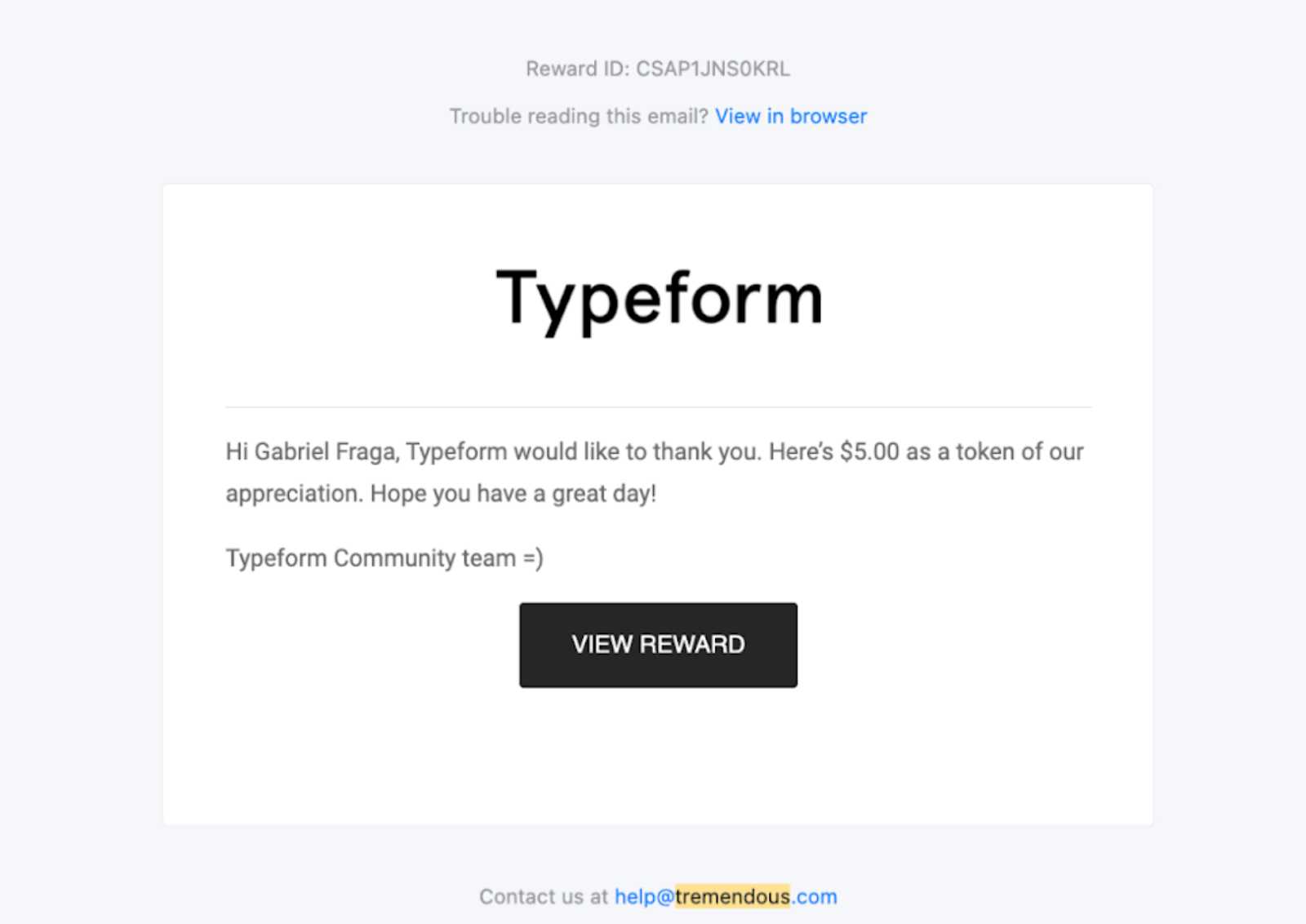 You'll have different options to redeem your token: mainly online shops and restaurants – such as Amazon or Adidas – or charity donations – such as Save the Children or Girls who Code. There are plenty of options and the availability and options depend on your region. 
Important: you have 1 year to redeem your reward since the moment you receive the email, otherwise it'll expire. These tokens are not cumulative, they're distributed in a one-off basis and therefore we recommend you to redeem them as soon as possible after you receive them. 
Please bear in mind that we don't manage the reward platform, any issues you might experience need to be reported to help@tremendous.com.
Typeform Love T&Cs. 
The T&Cs to this program are included in our general community T&Cs (see 14. Miscellanea). 
We can't wait to start sending Love ❤️