Welcome to a very special edition of the product digest. We have lots of mega exciting stuff to share as we roll out the new version of the Typeform builder 🎊 
The new builder represents a reimagining of the typeform creation interface (aka the Create section), complete with new features to help you make smarter, more beautiful forms. 
I put this video together to help give an overview of how to create typeforms with the new builder:
Looks pretty nice, right?
Rather than having you play a tedious game of spot the difference, let's delve into the specifics of what's different in the current version (and why it's better!)
Make your forms even more beautiful
We listened to you when you said you wanted more customization over the way your typeforms look. We realize that being able to be yourself and/or your brand is important (I mean, d'uh, right?!), so we beefed up the builder with a bunch of new design features. Check out my explainer here, or skip below to read what's new:
 
Image editor
A new image editor gives you more control over the images you add to your typeforms. From cropping and rotating tools, to preset filters and color adjustments, you can make sure your forms are looking  crisp.
Gallery
All of the images you've used in your typeforms are now stored in your own personal image library. You'll find this in the "My gallery" tab. This is perfect if you find yourself reusing the same images across different typeforms (like your company logo, for example). 
Fonts
Want more control over form typography? You got it. The new builder allows you to adjust the size of the fonts and change text alignment. See this Help Center article for more.
Layouts
If you haven't tried the Layouts feature yet, you're missing out. Click the Layouts button to unleash your creativity and dress each question in your typeform to impress. With the new version of the builder, you can tweak Welcome Screens and Endings ("Thank You Screens" in old builder speak) using Layouts.
Make your forms even smarter
To help you have richer interactions through your forms, we've added more capabilities to logic and variables, completely rethinking how these features work.
We've split out Logic into Simple and Advanced:
The Simple logic area is where you can set up branching to route people down different paths in your forms depending on the answers they give.
 

The Advanced logic section is where you can add variables, hidden fields, advanced logic and calculations. 
We've made these changes to make it easier to add personalization to your forms and to better facilitate popular use cases like lead scoring, recommendation engines, and respondent categorization.
Here, I'll explain a bit more about what you can do with logic and where to find the various features:
Variables
Variables are numerical values you can assign to the answers in your forms, like score, price, or other customised variables. Before, you were restricted to just one variable…  Now, you can have as many as you like! This allows you to do cooler stuff like tracking multiple scores in a quiz, or calculating prices in an order form.
You can brief yourself on how this all works by checking out this Help Center article. Here's a little demo that @Jo-Shan  put together to explain how to add multiple variables in the context of a quiz:
Hidden Fields 
Hidden Fields are now also part of the Advanced Logic section. If you aren't familiar with the feature, it's  essentially a way to send data that you already know about a user through your typeforms. It can be used for things like:
Tracking which campaigns respondents came from 

Segmenting your audience for deeper insights

Customizing your typeform to make it feel more personal by inserting information that you know (such as name, company, department, etc.) 
Check out the Help Center article or watch my explainer below to get the low down on Hidden Fields:

 
Other changes that will make your life easier 
Aside from the new design and logic capabilities, we've made other tweaks to the builder to make it quicker and easier for you to get the job done with Typeform. Here are some highlights:
Help widget
A Help widget is now available in the bottom right corner of the interface. Just hit the Help button if you ever get stuck and you'll find handy information to help you solve your issue. You can click the little arrow icon to expand and read more on our Help Center.
Live Preview 
Now it's easier to preview how your typeform will look on mobile and desktop devices. Just click on the little 👁️  button at the top and you can interact with the form as if you were a respondent.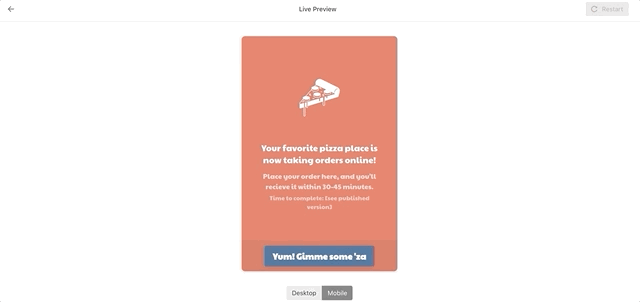 UTM Tracking 
We've made it easier to turn on UTM tracking for certain parameters including source, medium, campaign, term and content, so that you can analyze the performance of your Typeform campaigns. You can now access this feature straight from the Settings menu.
Integrations search bar
Did you know that we now have more than 75 native integrations (and counting)? Because of all the new additions, we've made it easier to find integrations with the apps you use by adding a search bar to the Connect panel. 
Two new question types 👀
As if all this wasn't enough, we're also rolling out two new question types with the new version of the builder 👀
 
Ranking question
This is a personal favorite (or shall I say, top ranking) of mine. The new Ranking question block lets you highlight a series of items that your respondents can rank in order of importance. Each question will be turned into an item with a number that can be adjusted. Respondents can also drag and drop items if they prefer. It's perfect for surveys, or even for personality quizzes! 
Note: This one is still a WIP, and the ranking question still doesn't support logic or randomized option ordering. 
Matrix question 
Want to collect quantitative data around people's attitudes towards things? A Matrix question is a closed-ended question type that lets your respondents evaluate more row items with the same set of column choices.

As with the Ranking question type, the Matrix block is not logic-compatible yet.
Check this typeform to see how these new question types look in action:
More resources
 
That's a lot of tasty treats to try, I know. I suggest you take your time to explore the new builder and play around. Then, if you want more help and inspiration, you can check out more content here:

Oh, and if you don't have access to the new builder yet, don't worry. The roll-out is an incremental process and you will get access in the coming weeks. Think of it like a vaccine 😬

Have you had a chance to play around with the new builder yet? What do you think? How does it shape up against the classic version?