Hello Community! 
I'm writing today to offer some clarity about the possible reasons why you may not be able to publish your form. 
When you get an error message while trying to publish your form, it often means that you're using a feature that isn't included in your current plan. The message would look similar to this one: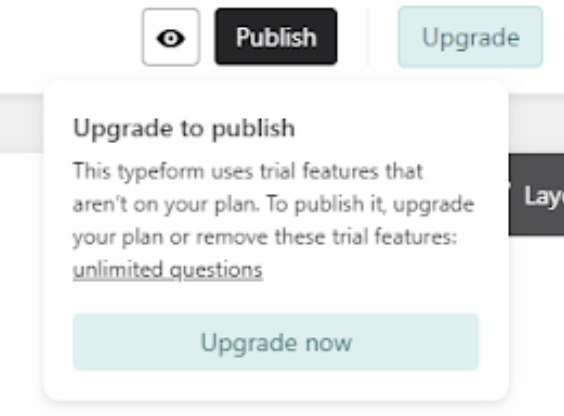 The solution is simple enough: if you remove that specific feature or upgrade to a plan that includes it, then you'll be able to publish the form! :) 
The good news is that Typeform will always tell you the reason and the feature that stops you from publishing your form. In case you're still unclear, see below a bit more detail about these:
Unlimited questions 
The free plan offers 10 questions per form. However, the ending and statements count as questions so make sure you count them too. If this is the case, remove the additional questions and you'll be able to publish your form. :) 
Remove branding 
The option to remove Typeform Branding is available for Plus plans and higher only. If you're on a different plan, this wouldn't be available for you. 
Respondent notifications / Payment question  / Redirect on Thank You Screen
These features are available for paid plans. Free plans wouldn't be able to use them. 
We hope this is clear but if you still have questions, feel free to post here and we'll be happy to help. 🤩