Hey VideoAsk Community,
My name is Mauricio, Product Manager at VideoAsk, and I would like to give you exclusive access to a new project we are working on at VideoAsk…
Introducing: AI summaries!🤖📝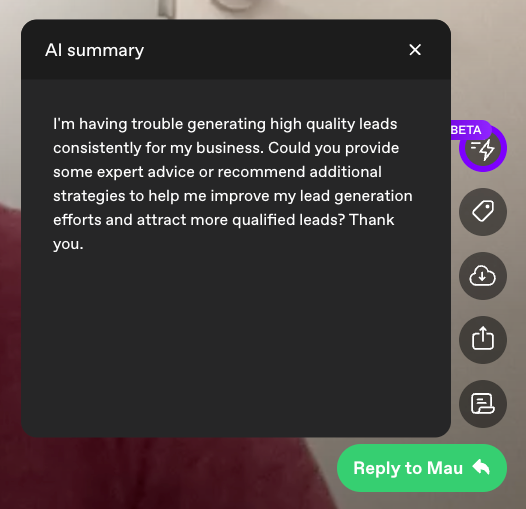 AI algorithms will automatically summarize responses and messages, capturing the essence, and saving you precious time and effort. Now, you can easily focus on what truly matters to your audience.
We want to hear how AI can help you achieve your goals with VideoAsk:
1️⃣ How could AI features benefit your day-to-day conversations?
2️⃣ How can AI enhance your processes in VideoAsk?
3️⃣ Are there any specific challenges VideoAsk could solve with the help of AI?
If you would like to sign up to test just comment in this thread and we will enable the feature in your VideoAsk account. You can also share your thoughts and feedback on how AI could help achieve your goals in this conversation, here in the comments, or using this videoask:
And if you would like to chat directly with the Product team, feel free to book a time via our calendar link over here.
Your feedback is crucial for our development so we'd also like to invite our community to join the VideoAsk Feedback Club to get early access to new features and provide feedback on the latest product releases. 
Thanks everyone, let's revolutionize VideoAsk together! 🙌