Hey folks!
Matthias from the Product Development team here
We recently announced that we will soon be saying goodbye to the Inbox view for Responses and replacing it with the Table view as the default way of viewing your responses.
Some of you have reached out with questions about the change, so we thought we'd pull back the curtain and give some insight into why we made this decision:
The Inbox view wasn't great at managing and exploring data
We received a lot of feedback from customers about their need to do more with their data.
Whilst the Inbox view was good at giving an overview of a single response, it made it difficult to quickly find the right information, compare answers, or detect patterns across multiple responses.
Our customers are collecting more responses than ever before, so we wanted a solution that would scale with their growing needs.
We could have tried to upgrade the Inbox view, but…
 
The codebase of the Inbox view was in a poor state—we got plenty of bug reports about weird behaviors that would have taken a long time to fix.
The interface wasn't adaptable—it was tough to imagine how the features we had in mind to improve data exploration would fit into it and we expected to hit a wall pretty soon.

We didn't want to invest time in something that would need to be discarded so quickly.
 
Instead, we decided to start fresh with the Table view. This approach allowed us to get rid of our ageing code whilst providing something new and more future proof at the same time
If you're thinking "but I still prefer the Inbox view!!!", you'll be happy to hear that…
The Inbox view isn't really gone
I mentioned before that the Inbox view was very good at giving an overview of a single response. For many of you, that's all you really need. We didn't want you to lose out on that experience.
So we didn't really get rid of the Inbox view, we just moved it.
You can now get a vertical overview of a single response directly from the Table view by hovering over any row and clicking on the expand icon.
From here, you can do the same things you could do in the Inbox view—navigate to other responses, delete the response, or print it. We've also started to add new features, like the option to hide questions with empty answers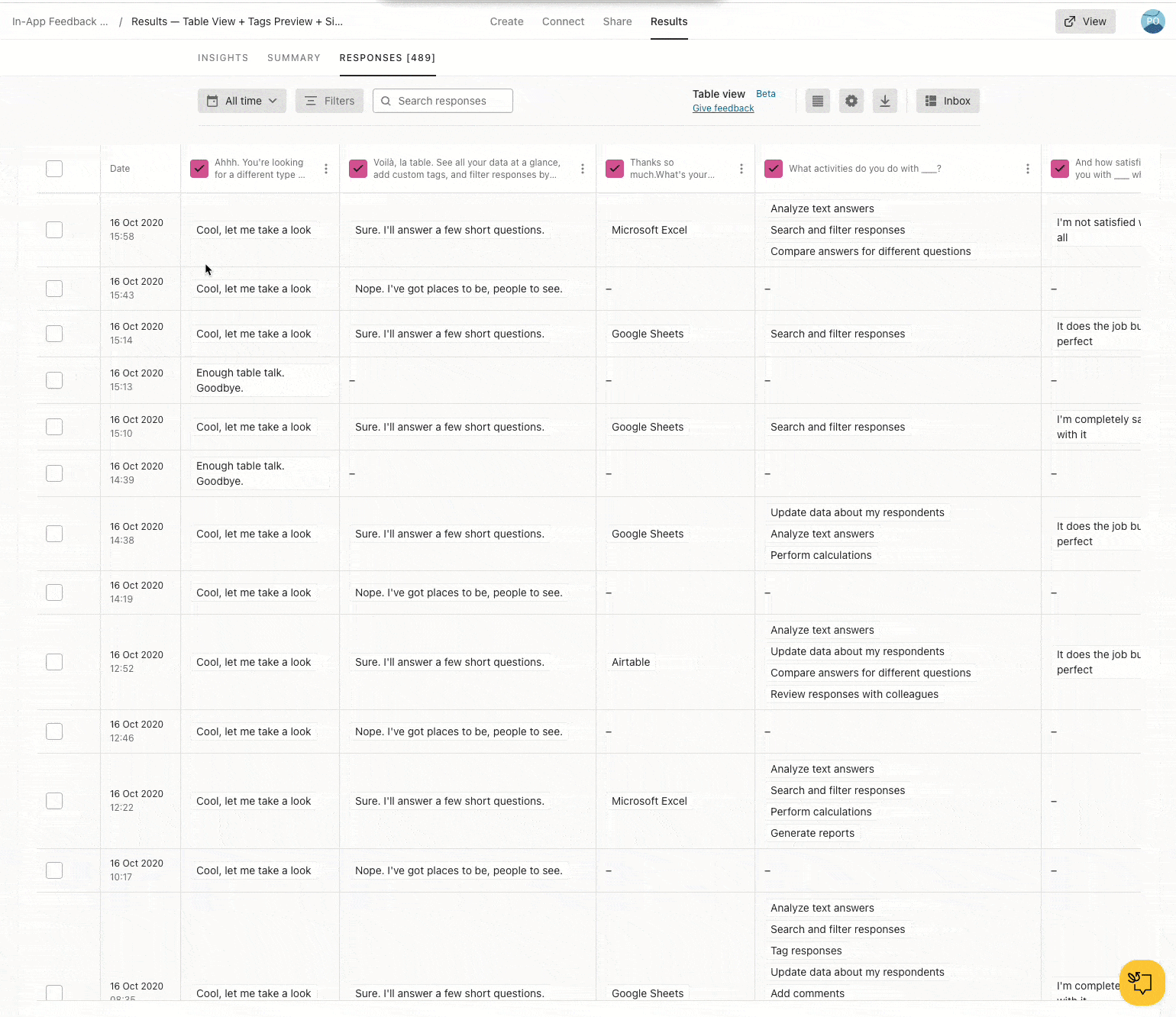 We hope you enjoy the new Table view (and the other features we've got cooking). If you've got any feedback about it, or have some other requests, feel free to share them in the comments below