Hi, it's Liz and we're excited to introduce….
Drumroll please….
Our new Calendly app! You've all been asking, and it's finally here! Calendly is our first in-app integration, which you can add directly into your form as you build it. Now you can ask all the questions you like and have your respondents set up an appointment with you directly within your Typeform, via Calendly's appointment scheduling platform. 
So now there's no need to send people to another web page or redirect them outside of your form to schedule a call or virtual meeting! 
Wondering what an in-app integration is? Instead of heading to the "Connect" panel, you can add your Calendly event into the form just as you would any other question. 
How to add the Calendly app to a typeform
To add a Calendly event to your form: 
Click the + button in the form builder and scroll down to "Appointments."

Next, authenticate the integration by connecting to your Calendly account. 

Then, select the event type you'd like to add to your form and choose whether or not you'd like to show the event intro. The event intro is the description of your event usually shown on the left-hand side of your Calendly link when accessed directly.
 
You can then recall information you've already asked in the form to auto-populate into the fields you have in Calendly by adjusting the settings shown below: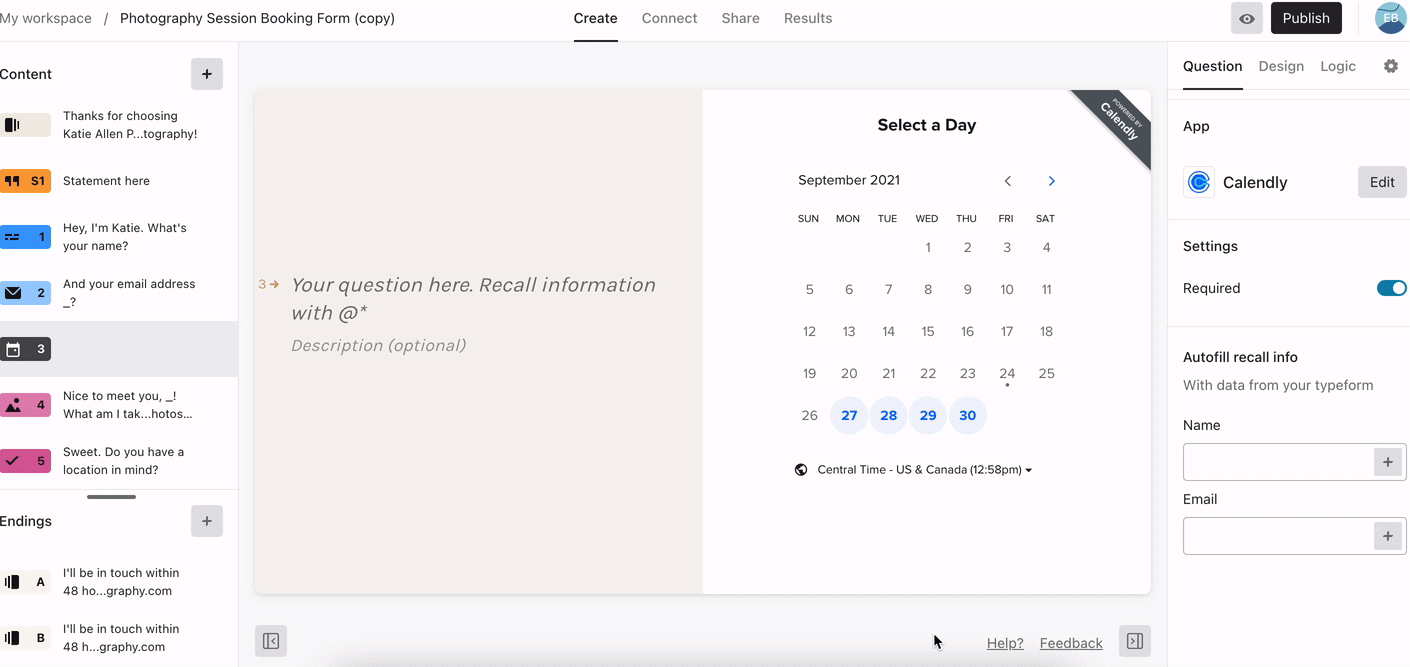 And voila! You've added your Calendly event to your Typeform. 
Watch a demo in the video below to see how you can add your Calendly events into your existing Typeforms.
 
3 ideas for using the Calendly app
There are loads of things you could do with this Calendly integration such as:
Lead qualification
Create a personality quiz template to narrow down whether or not your leads are qualified, and if they are, send them your Calendly link to chat with you. 
New client intake + appointment
Gather all the information you need about a new client and have them schedule their first call with you all in the same form.
Product feedback sessions
Ask your respondents for feedback on your product or service in your Typeform. You can use logic jumps to show your Calendly schedule to those who rate you in a particular way and schedule information sessions with them. 
Find out more by visiting the Help Center or ask any questions below. Happy form building!