Hey all,
This week I'm putting myself and the VideoAsk team under the microscope for a case study 🔬

We recently organized our first live VideoAsk Academy webinar: Breaking the ice with VideoAsk and I thought it could be interesting to share how we incorporated VideoAsk into the registration flow.
Here's what we built:
A

videoask registration form

integrated with Zoom Webinars & Google Sheets.

A

feedback videoask

to share during and after the session to gather feedback and insights from attendees.

A team

retro videoask

to gather internal feedback from those involved in the planning and delivery of the event. 
VideoAsk registration form
We could have gone with a traditional sign up flow using Zoom's built in registration form but we wanted to showcase how VideoAsk can be used as an alternative. We also thought having one of the hosts inviting people to the workshop helped to personalize and humanize the invite. 

I created a one-step videoask explaining a brief outline of what the workshop was about and used the button answer type as a sign up call to action which activated the contact form collecting a name and email address to be passed through to Zoom. I also used the consent checkbox to include information about how we were processing contact details.
Then came the fun part, integrating VideoAsk with Zoom Webinar! 

We had never tried to do this before, and initially thought it wouldn't be possible as Zoom needs to collect a first name and last name, and VideoAsk currently only has one name field in its contact form. But thanks to @andrew_videoask's expert knowledge of Zapier we were able to use the formatter feature to split the name field so that the contact details would correctly map over to Zoom.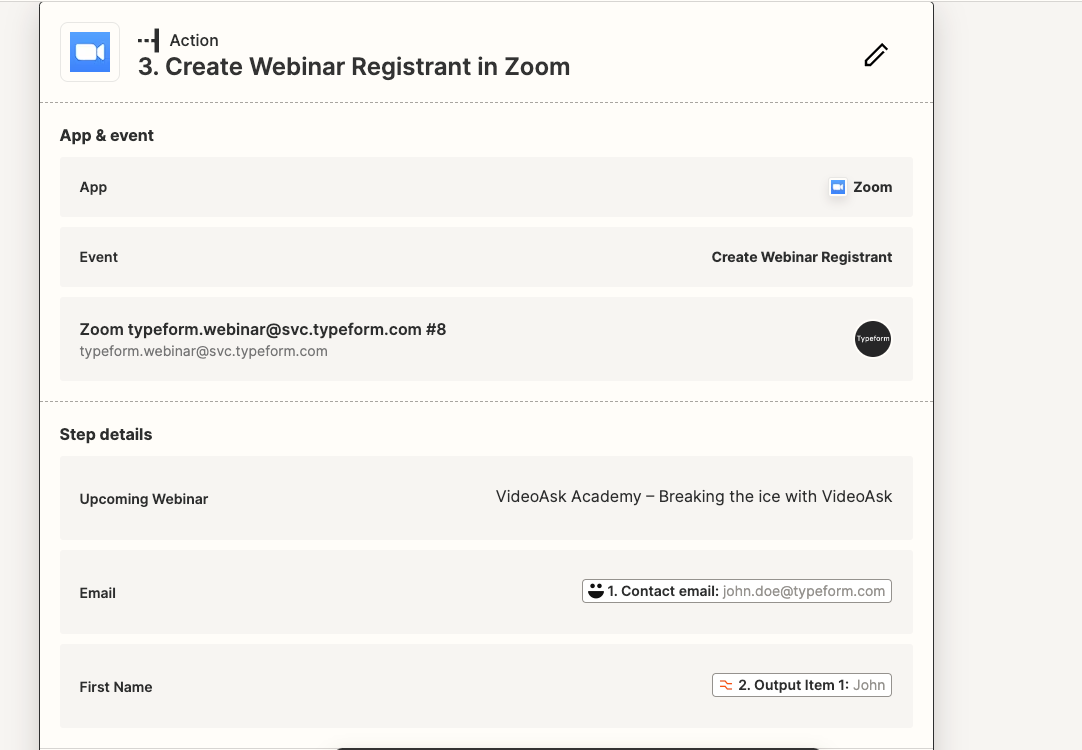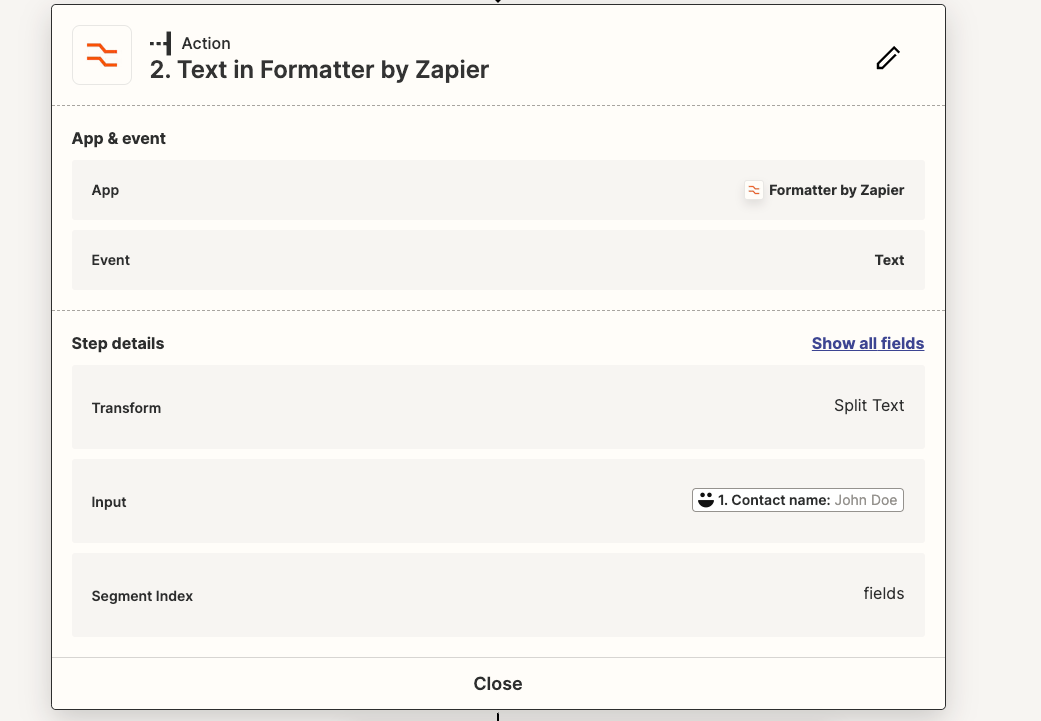 We also decided to integrate the videoask with Google Sheets as an extra precaution, so that if we had any Zap errors we had a record of attendees outside of VideoAsk to manually upload to Zoom.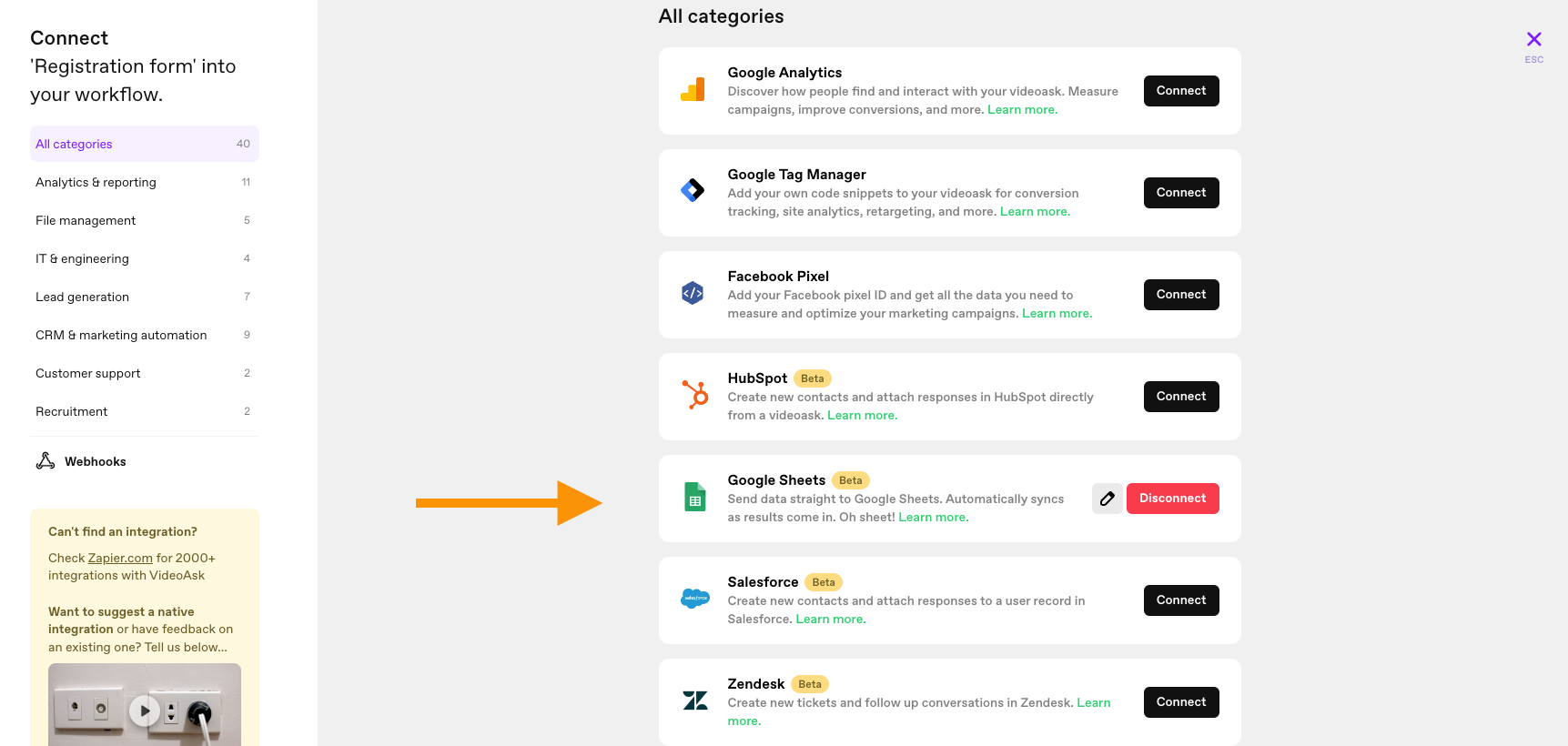 🤔 Thinking back, we probably could have just taken these cases directly from the VideoAsk inbox, but you have to upload contacts to Zoom via a csv file so it was helpful to have the information in a sheet format ready to go if necessary. 
Feedback videoask
It was really important for us to gather feedback from attendees to help shape the future of the VideoAsk Academy and the kind of content that we can offer our users so it was a no-brainer to use VideoAsk for this. 
We used the NPS feature as a first step and then followed on with open-ended questions to gather more detailed feedback from willing participants. This information was then easy to analyze and share with the wider VideoAsk team. 
We had three ways to share the videoask at the end of the workshop:
QR code

in the presentation slides

URL shared

in the webinar chat 

Redirect from Zoom to the feedback form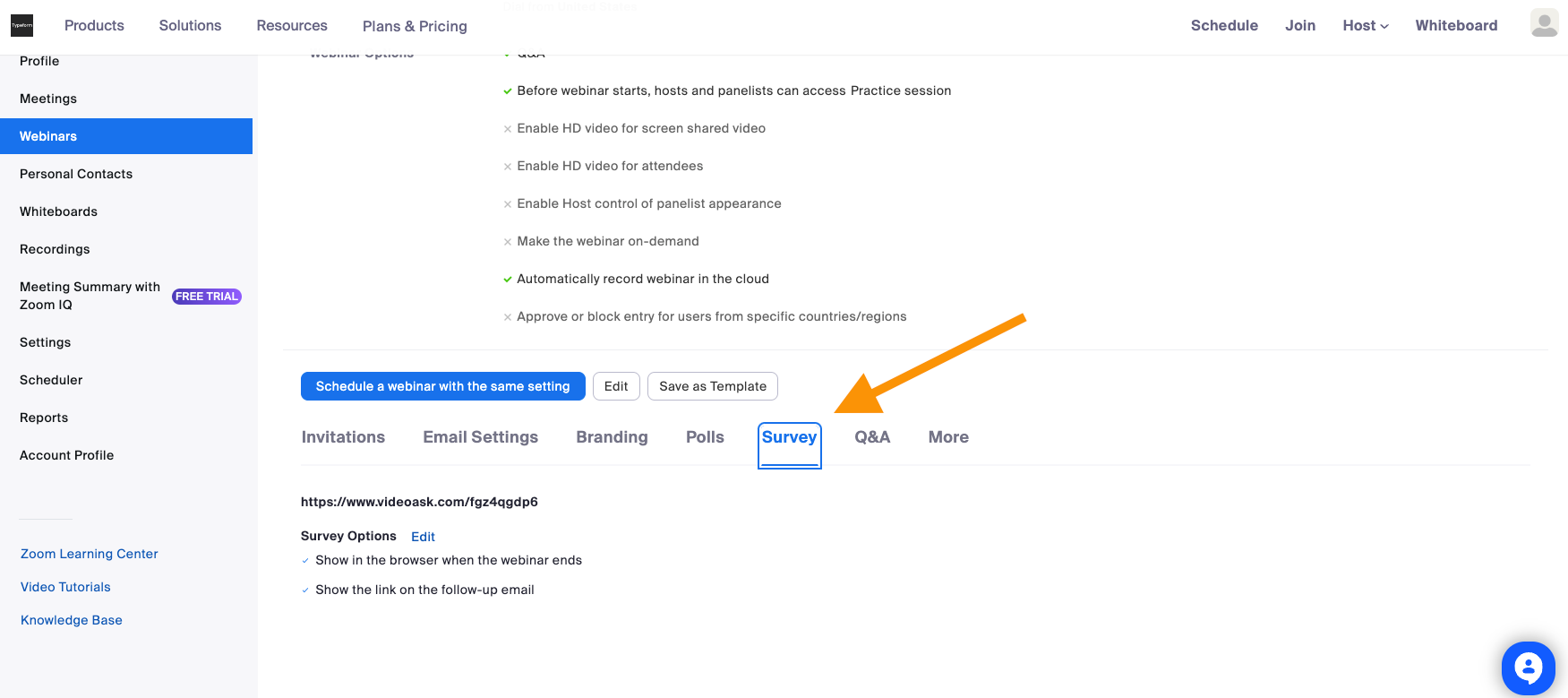 Under the Survey tab in Zoom you can add in a link to an external survey and choose to show in browser when the webinar ends.
Sharing the videoask at the end of the session garnered the best results for us. The workshop was fresh in participants' minds and they were ready to tell us what they thought! 
We also included the feedback form in a follow email which was sent out the day after the workshop along with the recording for people to watch back.
Check out the feedback form I created: 
(This one is LIVE! Feel free to leave your feedback on using VideoAsk for events or share any ideas for future webinars)
Retro videoask
And finally, I shared a "retro"-style videoask internally with the team involved in the VideoAsk Academy workshop. As important as it was to hear from our awesome attendees, it was also vital to know how things had gone for the team that helped bring the event to life. 
Rather than trying to find a convenient time in everyone's calendar for a catch up session we decided to put some key questions into a videoask that people could answer asynchronously at a convenient time for them. We were then able to build on certain points with follow up "in-person" discussions. 
For this one, I made good use of the Pexels library and overlay text rather than asking the question myself for each step.
(This videoask is set to preview mode so your answers won't be submitted)
What did we learn?
Maybe the setup was slightly more complex than if we had gone with Zoom's registration form, but in the end I think using VideoAsk for the registration form worked well for us. We were above target for our audience attendance rate and were able to introduce registrants to the theme and host ahead of time. 
We had a good level of engagement from the feedback form and it was interesting to see at what stage in the sharing process we had the best results. We captured the most responses from sharing at the end of the webinar while people were still engaged. 
I would also consider using VideoAsk to collect questions from signups or even run a poll ahead of time to help better understand what content would be most useful for our audience. 
Have you used VideoAsk to help organize and power your events? We would love to hear your thoughts and feedback in the comments below ⬇️