Hey Community! 
We're back with another videoask of the month and this time we're showcasing just one of the many ways we use VideoAsk ourselves! 🤯

Video editor @suzieq from the Education Team has been using VideoAsk to collect feedback on the videos created for the Typeform and VideoAsk Help Centers. It's been a great way to gain insight into what helps our awesome creators, and what needs some fine tuning.
Check out the videoask:
(Don't worry, this videoask is set to preview mode so answers won't be submitted)
What's the use case?
The videoask has been created to collect feedback from customers. Once someone has finished watching a tutorial video in the Help Center they will be asked if they would like to give feedback on it. This way, the team is able to capture their opinion while it's still fresh in the viewer's mind.
Where can I find it?
There are plenty of how-to videos embedded around the Typeform and VideoAsk Help Centers. At the end of each video a message will pop up that looks like this:
If you click on the message it will open the videoask in a new tab where you can interact with it. (Try it out here)
This videoask was built using the following features
Suzie has set up multiple choice questions to determine whether a viewer found the video helpful or not. 
Depending on which answer you select, you have the option to leave feedback on what was or wasn't helpful via the open ended answer type. You can choose between video, audio or text to respond. 
You'll notice the contact form has been activated in this final step, but it's not mandatory to fill out your details.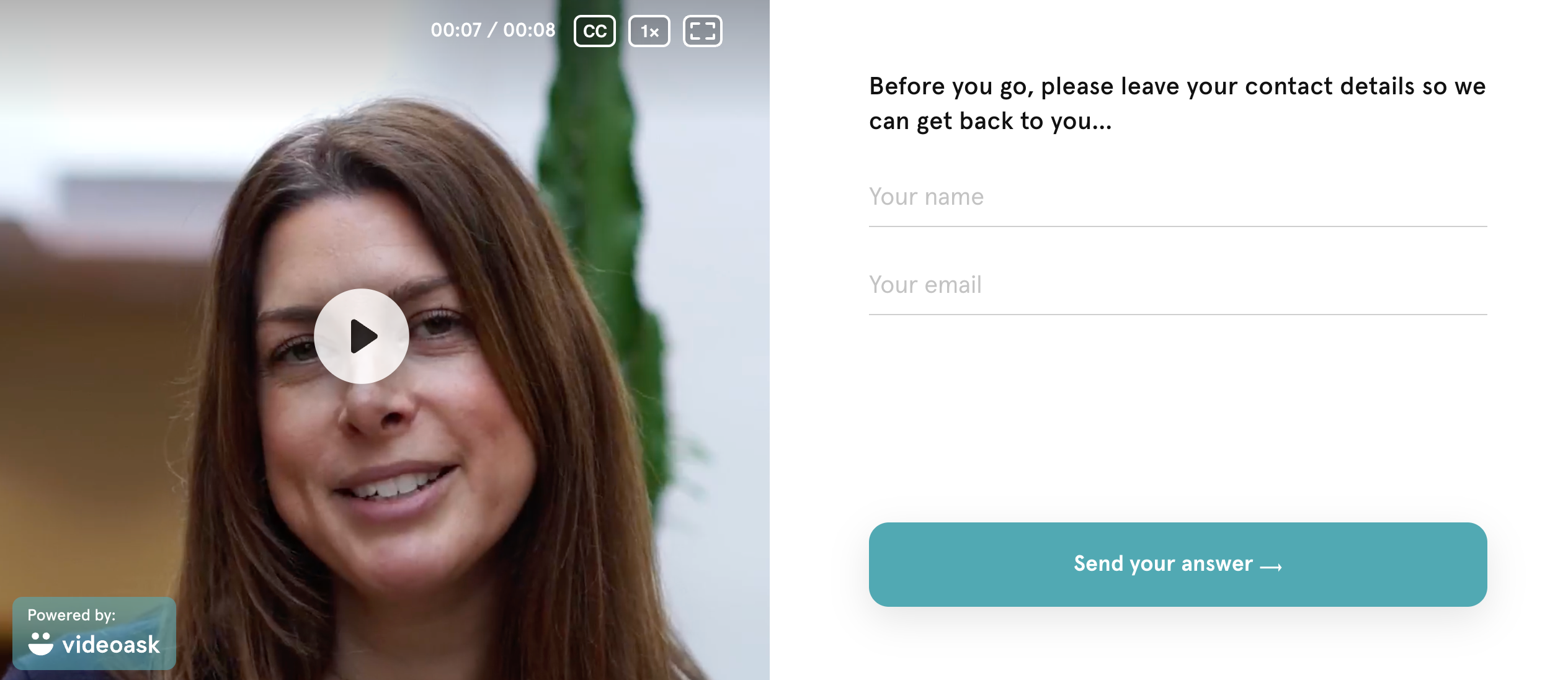 This means you can choose to remain anonymous. Leaving contact details is helpful if your feedback is something that can be followed up on, or if a viewer needs some extra support or help with something.
Congratulations to Suzie for creating an effective feedback videoask and thank you for letting us share it with the Community! 🧡
If you have any questions about the features used in this videoask, don't forget to drop them in the comments below ⬇️ and if you have an awesome videoask you'd like to share with the Community, drop me a DM so we can check it out!