Hi 'form fans! 🦩
Today we're talking to Carefree, a dazzlingly smart, big-thinking UK charity. It'll fill you with hope that tech can help us find solutions to big social issues! ✨✨
An unpaid carer is someone who looks after a loved one, friend or relative for free. There are about 9 million of them in the UK, and many are overworked and under-recognised. Carefree gives unpaid carers free breaks by matching them up with unbooked hotel rooms. Carer burnout is a huge problem, and this is a cheap way to reduce it.
Almost the whole charity runs through no-code software. Carefree isn't reliant on in-house developers, so they can help thousands of people - potentially millions - using tiny budgets. I had a chat with Joey Ceunen, their Chief Technology Officer about just one of their processes. 
What happens when a new carer is registered with Carefree 
As you can see, Carefree operates like a tech startup. One eye on improving lives, another one on growth, efficiency and scalability. It's so inspiring to see a charity plan as ambitiously as any money-driven entrepreneur! 🤩
The video was a broad overview of their onboarding process. If you want to set up something similar yourself, here's all the Help Center articles you'll need.
How to set it up yourself: 
Here's a cheeky diagram to accompany the video.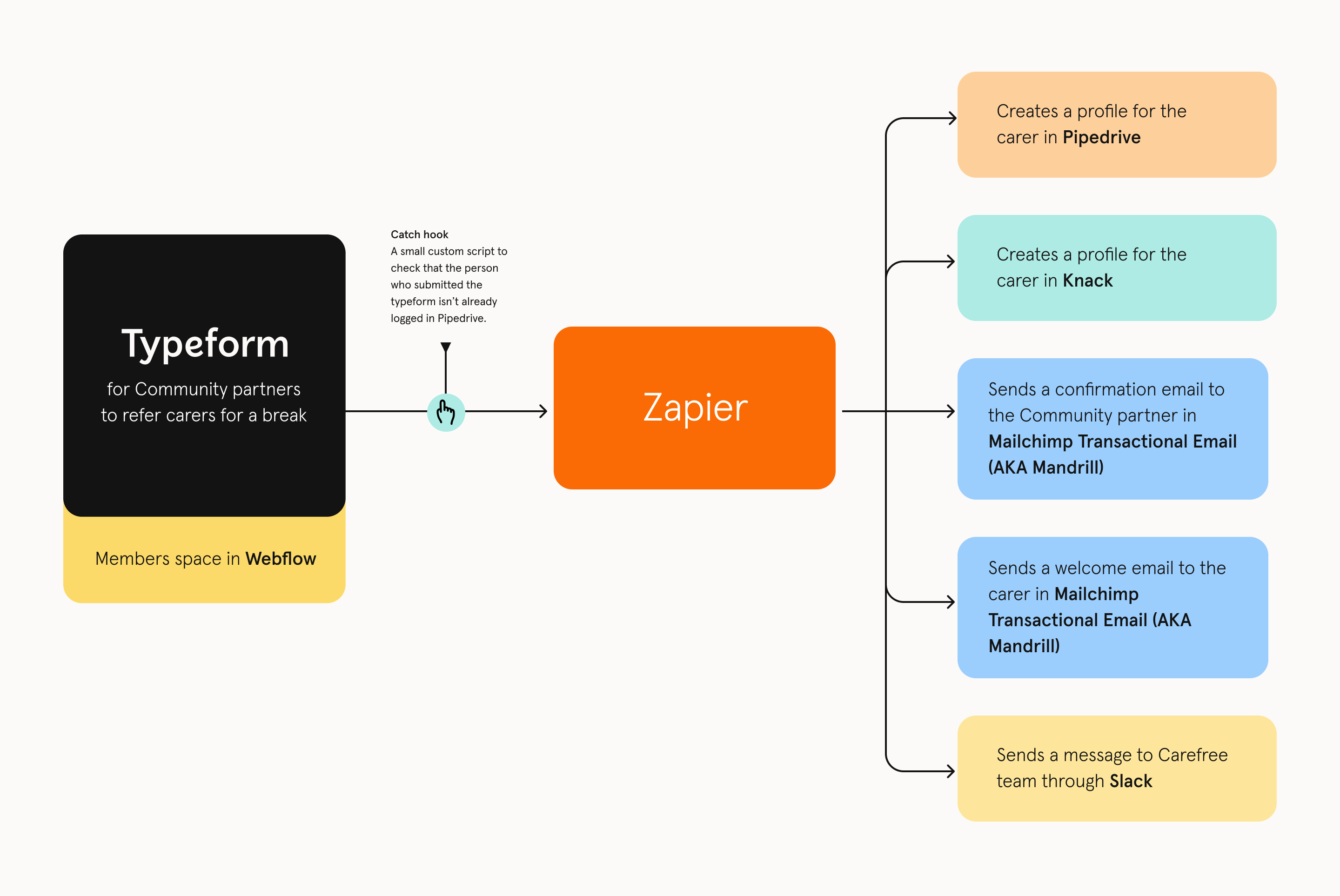 Step by step: 
There's a website built in Webflow
First of all, Community Partners log into a webpage made in Webflow. This isn't Carefree's main website, it's a Member's Space, which means only Community Partners have access to it. A Community Partner is Carefree's term for one of the local care charities and support groups they coordinate with. Community Partners tend to know the needs of individual carers really well, so they have the power to refer a carer to Carefree.
Here's Webflow's guide to getting started with Webflow. 
There's a typeform to refer new carers
A Community Partner fills out a typeform with the details of a carer who they want to refer for a break and then: 
Check out Webflow's guide to embedding a Typeform into a Webflow page.
Here's a good example of a guest registration typeform. 
The typeform is connected to Zapier 
As you probably know, Zapier is a tool that can be used to integrate your typeform with many different applications. Here's how to set it up. 
Optional: a small custom script checks that this carer isn't already registered
This is the one part of the process that doesn't use no-code tech. Carefree commissioned an engineer to create a script which pushes the Care Partner's details into the typeform as hidden fields. It then checks whether or not an entry already exists from this Care Partner, for a carer with this name in Pipedrive. If the carer is already registered, then the process stops here. If the carer isn't already registered...
An entry is made for the carer in Pipedrive
Pipedrive is a CRM: a database software where Carefree stores all the information they have on Carers, Care Partners, and other contacts. Once the typeform is submitted, the carer's information is automatically stored there. 
Here's how to send leads from a Typeform into Pipedrive. 
An entry is made for the carer in Knack
Knack is a database software that can be used to make apps. It's different from Pipedrive because it can be used to trigger transactional emails. Knack also makes it easy to embed your databases onto websites to share the information in them. For example, every Community Partner registered with Carefree will see a database in their Members Space with the details of all the carers they've registered, powered by Knack. 
Here's how to send information from a Typeform into a Knack database. 
Here's how to connect Knack and Webflow using Zapier. 
A confirmation email is sent to the referred carer via MailChimp Transactional Email (AKA Mandrill) 
MailChimp Transactional Email (which used to be called Mandrill) is a side product from Mailchimp that's used to send transactional emails. That means: you can use it to send template emails to an individual, triggered by something that individual has done. For example, become registered as a carer. 
Here's how to send an email with Mailchimp Transactional Email to an address in a Knack database, using Zapier. 
A confirmation email is sent out to the Care Partner via MailChimp Transactional Email (AKA Mandrill) 
The same process as above! 
A notification is sent to the Carefree team's slack channels to say that a new carer has registered. 
Slack is an instant messaging tool that businesses use for their internal communications. Carefree has set up a Slack channel so that everyone in the team is notified when a new carer joins their books! 
Here's how to get notifications on Slack when someone fills in your typeform. 
The carer referral typeform only takes a couple of minutes to fill out, but boom! All of the admin to register a new carer is automatically completed. Imagine how many hours of making phone calls and logging spreadsheets it would take for a human to do the same job. Wildly impressive. 
This has made you feel empowered, show Carefree's donations typeform some love!