"Remember that scene in Fantasia where Mickey Mouse, the Sorcerer's apprentice, got the magic brooms to clean up for him? Well I feel like a newbie who has found a magic wand and I'm like "hey I can save some time with all these brooms"".
This is how Delegate Coordinator Maurice Rosellini described the no code setup he conjured up to help him automate the organization of the M for Montreal music conference. 
In this episode of Workspace Invaders Maurice reveals the solution he designed that allowed him to manage the process of signing artists up to the event, handling payments and then managing the pipeline. 
In the video we'll see:
The amazing "call for artists" typeform that M for Montreal uses to collect registrations. Find out how Maurice is using features such as Hidden Fields (for tracking source), Logic (to support promo codes), Payment field and File upload. 

The ingenious solution Maurice built to send payment receipts via Stripe, using Integromat

How Maurice uses the Mailchimp integration to send follow-up communications to artists who have registered for the event.

The Airtable database that Maurice uses as the central hub for artist information. Find out how the typeform responses land there and the magical things that happen to the data once it's there!

Plus, if you're a lover of great analogies you'll be happy as a pig in mud...because Maurice is full of them 
 Shout out to the wonderful @Michaela from Integromat who joined the session to help us delve into Maurice's solution.
Do it yourself
Ready to build your own conference registration system? Here's a reminder of Maurice's setup: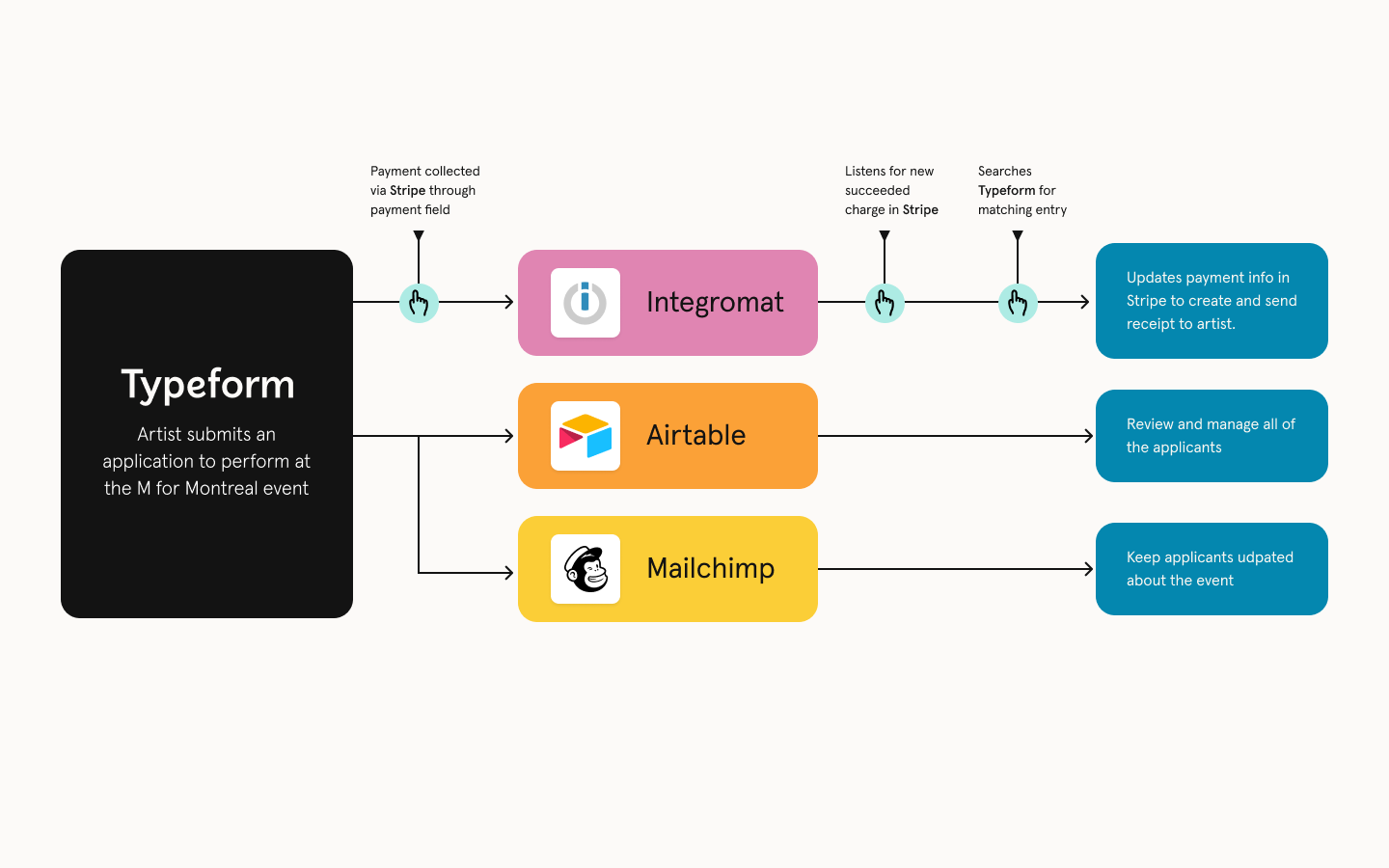 1. Creating the typeform
This was the template Maurice used as a starting point for his form, replacing the image on the Welcome Screen with the M for Montreal logo.
Read more about the features used in Maurice's call for artist typeform here:

* How to use Hidden Fields
* Payment question - Stripe integration
2. Sending receipts using Integromat & Stripe

Maurice used Integromat to connect Typeform with Stripe in order to send the receipts. He monitored Stripe payments then queried them against the Typeform results using the FormID and Response ID. If there was a match the system would add the name and email information from the typeform to the Stripe entry and kick out a receipt to the applicant's email.

💡 Learn more about Integromat's integrations with Typeform and Stripe.
3. Sending follow-up emails with Mailchimp

Once an artist (or their representative) signs up for M for Montreal their details are sent to Mailchimp via Typeform's integration. From there they are entered in a communication flow to keep them in the loop in the run-up to the event.
4. Making data appetizing with Airtable
As Maurice said "Data is like food. If it's appetizing and well presented, you want it." He sends his responses to Airtable using Typeform's integration when he and the team can work with it. He has a bunch of Airtable automations set up to process attendees in different ways without him having to lift a finger.
Pretty cool set of hookups, right? We'd like to thank our Typeform star Maurice again for sharing his solution with us 👏 And to @Michaela for joining the fun!
 
If you're in the music business or are a musician yourself, be sure to check out M for Montreal 2021 to find out more about the event and how you can get involved.
Workspace Invaders will be back soon in another quest to uncover the shining lights of the Typeform universe. Got an out-of-this-world typeform solution you want to share? Tell us about it here and you never know, we could be swooping in to pay you a visit and expose your awesomeness to the Planet! 🌠