If you've spent some time in our community you may well have come across John Desborough, or "Des" as we like to call him 

  @john.desborough 

Based in Canada and with a passion for coffee 
Des is always willing to help others get the most out of our products, and his willingness to help others has turned him into a Typeform certified partner! 
Des' enthusiasm for Typeform and dedication to the community inspires us all, so that's why we've chosen him for our first Member Spotlight!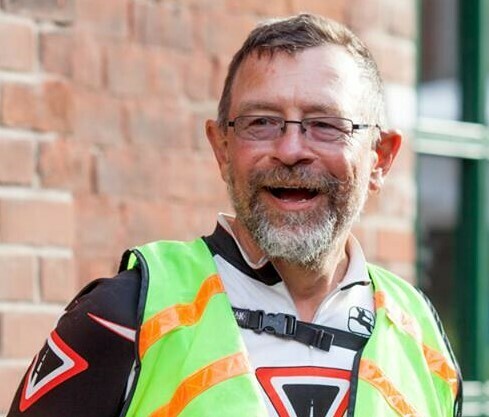 Where in the world are you based and what do you like the most about your location?

I live in Ottawa, Ontario Canada. We get all 4 seasons here, really well defined lol.. -40C for two weeks in the winter, lovely spring with an internationally renowned Tulip Festival in May, 40C for two weeks in the summer (ok, that includes the humidity too) and we have tourists who come from all over the world to see the Fall Colours.
It's the capital of Canada and so has influences from all over the world – there is at least one restaurant from every (almost) country here in the city, to accommodate the diplomats who come. The urban area is about 1 million people but I can go 10km from my house and then I can hike or cross-country ski for days without hitting a town or crossing a road on the way to the North Pole.
 How did you first hear about Typeform and how long have you been using it?

I was looking for something that would help me convert in-person assessment projects into online assessments in April of 2020. During a search on the interweb, Typeform came up.. so I tried it..
 What do you use Typeform for?

I use Typeform for a variety of things:
Assessment projects for my own consulting practice – data quality/governance maturity assessments, etc. 
For selling t shirts that I print (coffee – and some sarcasm – slogans)
'Internal forms' for the 7 other voices in my head to use: gratitude journal, tracking exercise, tracking daily 'wins', writing prompts and entry – to get better at writing stuff daily.
I also build typeforms for use in my business (lead gen, etc.) and for clients – ranging from facial product recommendations, to coaching assessments, to lead gen, etc.
I've also built out a webinar/event registration and feedback form as well.
 Which Typeform feature can't you live without?

The logic map – it helps me quickly see if I have made a glaring error in my thinking and/or logic rule creation
 Which Typeform feature or integration would you love to see next?

Ok, now I have a list that would make my life easier – as I want to do as much as possible natively in Typeform without having to go outside:
Logic rule capability for ranking and matrix questions – having to go outside of the tool to find out the response makes it tough
Logic rule to convert a variable (or field) into a number – hidden fields come in as 'string' variable and there is no way to convert a string of numeric characters into a number so a logic rule like "if hidden fieldname exists convert fieldname to number value" would be great (would allow passing "est_price=1000" in the URL but allow for that to be converted into a number inside a logic rule
The ability to allow for decimal places to be entered in a response ie 11.25, and to have the .25 retained as part of the answer 
The ability to 'append' a text variable to another text variable ie If lastname is not blank, then append firstname + ' ' + lastname in fullname
Logic rules that would permit something like this "multiply v_one by v_two and store result in v_three "– rather than having to go "add v_one to v_three then multiply v_three by v_two – this would shorten the logic rules
I am constantly having to figure out the MAX value of a set of variables due to scoring quizzes
It would be nice IF Typeform had the logic rule to evaluate MAX 'score' from a defined set of variables ie. Always "find max" from v_one and v_two and v_three….. and write answer into max_variable_text, so that the user would define the variables to examine and Typeform would identify which variable had the max
I would also like to see similar functionality for RANK of variables – in descending order list the variables ie if there were 10 variables and they had scores from 1-10, then rank them in order of highest 'score' ie v_1 =10, v_6=9, v_2=8….
 
 What tips would you give to someone starting their Typeform journey?
First and foremost: plan your quiz and questions IN ANOTHER DOCUMENT ie. a spreadsheet
Start with outcomes in a column – ie if you are making a product recommendation and you want the user to have one of 4 options, the 4 options are your outcomes – list them
Then write the questions you want to ask that will lead the user to the outcome – works for scoring or outcome type quizzes
Create the list of 'logical paths' in your questions. Ie. ask for name and age and then gender. If questions branch due to gender then show it in your document
Second most important tip: before you make any changes to a typeform you have created, duplicate it so that you have at least one working copy of the form. (also create a 'backups' workspace where you put a second duplicate of your form for safety)
Third – use the Google Sheets integration to capture your data always – this will allow you to see the data being captured and that you can try to analyze later on. Even if you don't use this for anything else, it is a good idea.
 
 What's the weirdest response you ever had to a Typeform?

30 pages of an online story copied and pasted into a long text answer.. the user said they couldn't come up with anything but wanted help to be able to write like this …..
 What is the best thing about the Typeform community? How has it helped you so far?

Understanding how people are trying to use the software to do things. I am constantly learning about new use cases and trying to figure out how to solve those – which leads to an increase in my ability to use the tool
more efficiently. The relationships with the people in the community that get formed by the frequent users..
 What else could we be doing here in the community to help you even further?

Nothing else for me personally.
 Besides Typeform, what's your favorite no-code tool and why?

Depends on your definition of No-Code tools lol – I think tools like Convertkit, Active Campaign, etc that allow you to create 'flows' of activities based on the responses that are submitted to a typeform are pretty cool – I use both of those as well as Keap.
 Anything else you would like to add?

I would like to see more active recruiting of partners to come into the community but that is just to expand the set of folks helping others…