Hello Community! 
Wondering how our rank and our badges work? We've got you covered! 🥳
The community rank is a fun element that recognizes and rewards members who actively participate. Your rank level is based on your engagement in the community: how often you post, your helpfulness and the value of your contributions.   
Let me get a bit deeper into our ranks and what they mean: 
Just touched down: This is the first step! Members who have just joined the community will start here.

Navigating the land: Navigating the land is easy, you just need to comment on a topic or two and start participating.

Explorer: To become an Explorer you need to start your own topic. 

Socializer: As the name suggests, to reach this rank you have to exchange ideas with others creators and go into the nitty-gritty of building typeforms and videoasks.

Sharing wisdom: To hit this rank you will have to consistently engage in people's questions and challenges.   

Tastemaker: Becoming a Tastemaker is a great achievement, this is when the community starts looking up to you! 

Community Wizard: Wizards have super powers and can do great magic with typeforms and/or videoasks.

Master Creator: Ranking up to this level is no piece of cake. You gotta be a remarkable creator and, even more importantly, an outstanding community member. 

Hall of Famer: This is community demigod status, like Hercules or Helen of Troy. 
Note: sometimes you may skip a rank, this is because you performed an action which is typically associated with a higher rank. 
You can see someone's rank in their profile, or in any thread they have posted in, and you can learn a lot from it: the higher the rank, generally the more helpful and active the member has been in the community.
Of course, you'll also earn ranks based on your level of participation. The best thing to do is to visit our community often and talk to other members, but here are some actions that will help you along your journey: 
Starting discussions and posting questions 

Participating in ongoing discussions

Providing answers to other community member's questions

Giving and receiving likes on posts 

Marking an answer as "Best Answer" when you get the response you need 
What are badges? 
While Ranks are more about activity and seniority, badges are generally assigned based on behavior and roles. So, someone who has helped a lot of members would be a 'Problem Solver', someone whose content receives a lot of likes, an 'Influencer', and so on and so forth. 
Badges can be awarded both automatically and manually. You can automatically earn a badge by helping a lot of creators, but we can also award someone a tester badge for helping us test and improve a new feature. 
These are the main badges you can achieve:
 
Schmoozer: a badge for those who are starting to gain popularity in the community, schmoozers are easy-talkers and a friendly bunch. Needless to say they 'talk a lot'.

Influencer: a badge for those whose content is consistently appreciated by others. Influencers post great stuff that people love. 

Problem Solver: a badge for those who have helped a significant number of creators with their solutions and workarounds. Problem Solvers know a ton of stuff about building typeforms/videoasks. 

Tester: as the name suggests, testers are those who help us test and improve new features. Testers are so incredibly important to make our products awesome. 

Meaningful: a badge for those who go the extra mile supporting the wider community, making sure everyone is welcomed and supported. Meaningful creators are the nicest, coolest bunch. 

Engineer: a badge for those who have a passion for fixing stuff. Engineers are like the MacGyver's of our community.  

Champion: a badge for those creators who lead by example and make a big difference to us all on a day to day basis. Champions are the engine of our community and brand.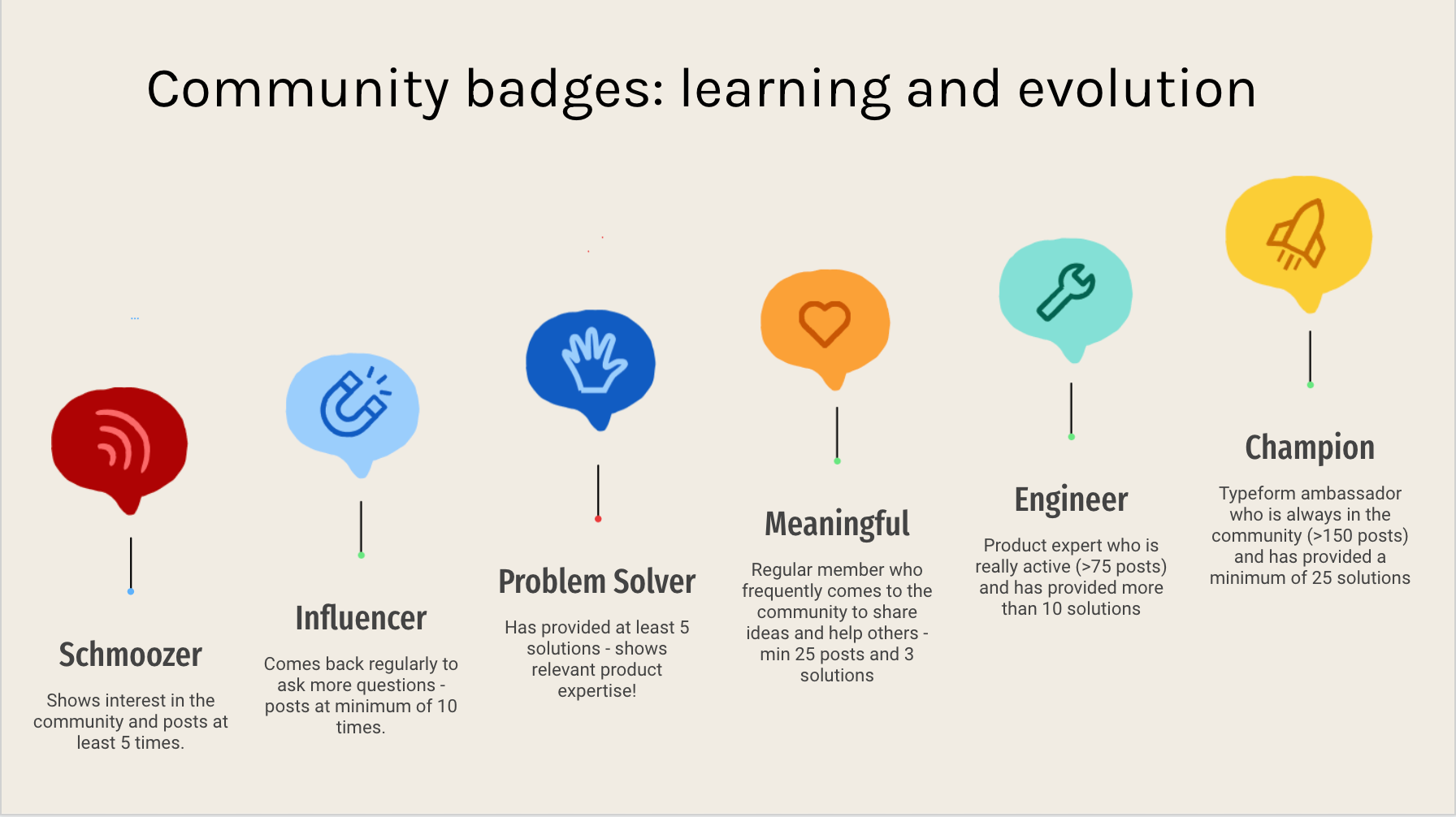 We can't wait to see tons of Hall of Famers with the Champion badge here! Will you be one of them? We truly hope so! 😎