Hello friends! Didn't mean to go MIA on y'all! But I must say, it feels good to be back and can I just say WOW?!?! that this here community is now 5K members strong (in just 5 months!!). Thank you all for being here—it's people like you who make the work fun and worthwhile 😉
Today's digest is a bit of a mixed bag. I originally wrote that today's digest would be a Barney Bag of integrations and then was like, "Wait a second...am I dating myself here?!" Is anyone else reading this a child of the 90s, raised on the likes of Sesame Street, Barney, and Reading Rainbow?  
Anywho, we've got some fun stuff to talk about today, whether you're looking for ways to boost your productivity, want to connect your typeform responses to a new email marketing tool, or want to sync your typeform responses to tools that make sharing and collaboration easy. Plus we've got a few updates to our Google Analytics and Salesforce integrations too. So let's get into it, shall we?
Notion

Drumroll please 🥁 🥁 🥁
If you hadn't already heard, our Notion integration is LIVE and ready to use!! If any of you are diehard Notion fans like I am, THIS IS BIG.
Notion is the super versatile, all-in-one workspace that helps you keep track of things, get organized, and share information across teams, even if your team is all spread around the world. Whether you're building a project roadmap, creating an internal directory for your company, or creating next season's editorial calendar, Notion's got you covered.
With the Notion integration for Typeform, you can quickly sync all your typeform responses into a Notion database that you can set up to mimic the question fields you've created in your typeform. From there, you can create filtered views, add additional columns of information, and even add comments so that other team members can view and respond to the results.
You can integrate with Notion from the Connect Panel within your Typeform builder or head straight to the integration via this link. If you want more helpful tips + how to's on setting up the Notion integration, you can find it here on our Help Center.
Automate.io
What does Automate.io specialize in? You guessed it...workflow automation! Pretty good name, huh?
Trusted by 30,000 businesses, Automate.io is a leading cloud integration and workflow automation platform that allows you to connect Typeform with 200+ web apps easily and automate all your repetitive tasks using a simple drag and drop interface — no coding required.
With the Automate.io connector for Typeform, save time by no longer manually exporting your Typeform responses! Using Automate.io, you can automatically sync your Typeform submissions with a host of other marketing, sales, support, and business apps.
Check out what's available here and have a look at all the popular ways people are using Automate.io to connect Typeform to other apps!
Check out the eye-opening case study that@ashutosh from Automate.io wrote on the Typeform blog about music directory startup Rostr. They are saving a ton of time and hassle by automating their processes with Typeform and Automate.io.
Sendinblue
Sendinblue is an all-in-one marketing platform for engaging with your contacts and building better customer relationships through targeted and meaningful communication. You can cover your entire marketing funnel with SendinBlue, and supercharge your experience by connecting your typeforms to Sendinblue.
With the Typeform integration for Sendinblue, you can grow your contact database in no time and create automated workflows to keep in touch with your customers. By connecting Sendinblue to your Typeform account, you can ensure that you can easily, and quickly, stay in touch with everyone who responds to your typeforms, for example:
 
Send automated emails and SMS messages or update contact database attributes when a contact performs an action via typeform.

Automatically sort contacts into different lists or create tasks in your CRM that can be assigned to different team members based on contact behavior on typeform.

Call external webhooks to send data and create more complex processes outside of Sendinblue.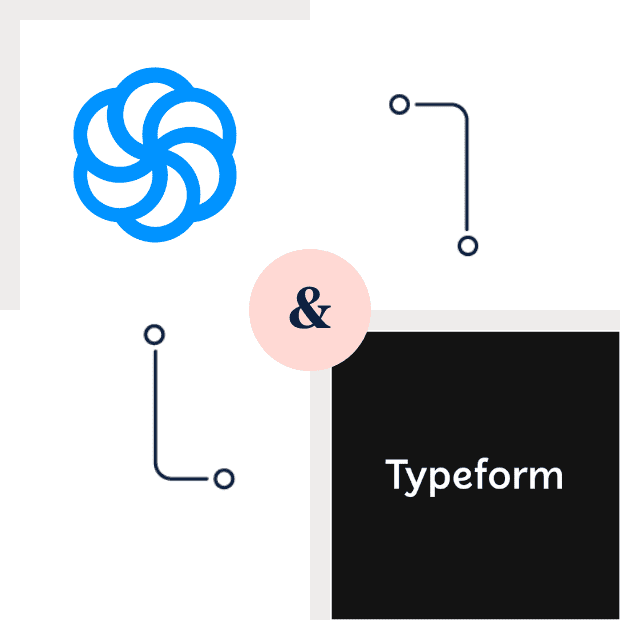 Head over to this page to connect your Sendinblue and Typeform accounts and start getting the most out of this integration!
Google Analytics
If you run a website, there's a good chance you use Google Analytics to keep tabs on who's visiting, who's clicking what, who's converting, etc. 
Our integration with Google Analytics isn't new but we've made some fancy updates to it that make it even easier to see how visitors are interacting with your embedded typeform and have a much clearer picture of what's going on.
If you've embedded a typeform in your website, you can now track all actions taken by a user across the typeform as a single record, and see all activity under one user profile. As long as the embedded typeform has the same tracking code as your hosting webpage, you are good to go 💪
Good news: you can segment different events in your Google Analytics metrics too!
For example, one visit in Google Analytics can be segmented as follows:
A visitor clicked on a Typeform ad in Google,

they visited the Products, Integrations and Contact pages,

they filled out a typeform and submitted their name, email, company name and address,

and finally, they visited the Pricing page.
If you haven't already linked your Google Analytics account to your typeform(s), you can do so here. For more information on how to set up the Google Analytics integrations and "keep track" of your tracking, you can read this Help Center article.
Salesforce
And last but not least, we've made some upgrades to our integration with Salesforce. If you're a Typeform and Salesforce customer, have you given our integration a try yet? We're constantly making upgrades and improvements to it and would love to hear what you think!
With our latest upgrade we've made two major enhancements:
The ability to sync records at lower frequencies. Previously it was only possible to sync records in 60 minute and 24 hour intervals but now you can also sync frequencies of 5, 10, and 30 minutes.

Now you can choose for certain fields that you're mapping to whether to update existing records in Salesforce or create new ones. Previously you were only able to create new records.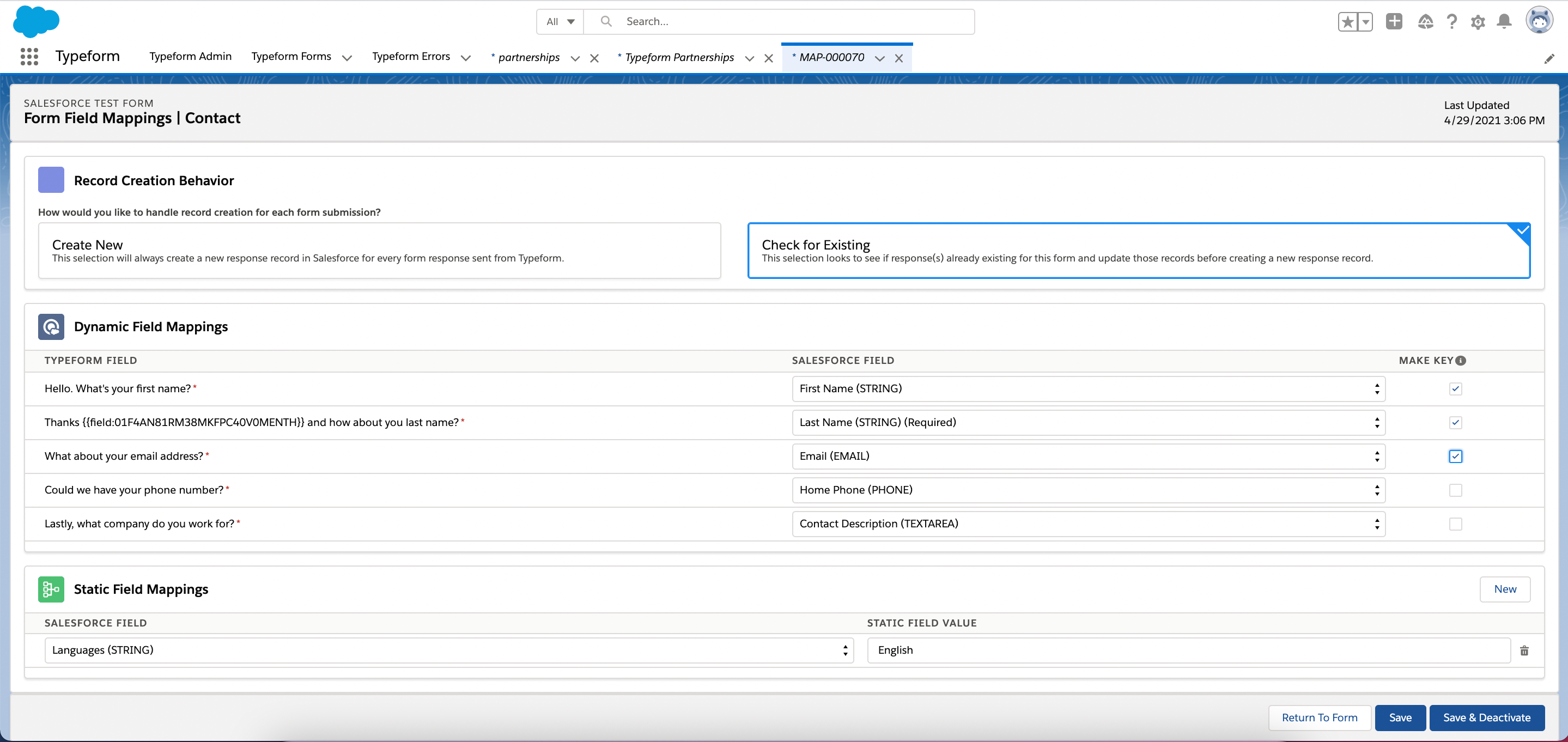 You can learn more about these upgrades and lots more about our Salesforce integration in this Help Center article.
And that's it for our June round-up of new and exciting integrations! It's June which means Summer is right around the corner, or if you're here in New York City like me, these 90+ degree temps (Fahrenheit, that is 😉) are already giving me a Summer preview.
Have fun, stay safe, and share your feedback, questions, requests—whatever your heart desires—in the comments! I'll see you again soon for digest #4!