April showers definitely brought May flowers this month because our product team rolled out five blooming releases! My favorite of them all is the conditional redirect, but you can read more about what that is a few paragraphs down. 
Let's dive right in!
Conditional redirect on completion ↪️
This is a BIG release this month, which I know lots of you have been asking for! Now, you can send your respondents to different URLs based on the answers they provide in your form. You can still add URLs to the ending screens, or you can redirect them automatically without needing to show them an ending screen first. 
One thing to note - this feature will only appear in newly created forms. Existing forms will be migrated from the original redirect feature to this one.
Cookie consent banner 🍪
Meet GDPR privacy requirements by offering the option to display a cookie consent on your form. You can turn this feature on and off within your form settings as shown below.

Read more about this feature in our Help Center article here.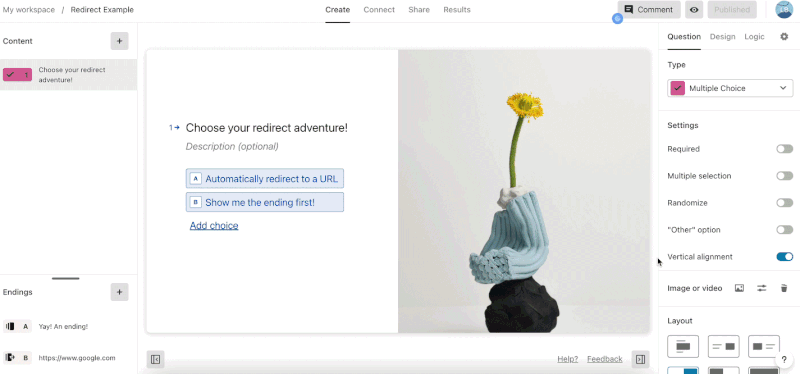 Encourage submissions 🚅
To build trust with your potential respondents, you now have the option to turn on a feature that will show them how many people have already completed the form, in real time. As always, remember to click the Publish button after switching this feature on so it's on your live form. You must have a welcome screen on your form for this feature to appear.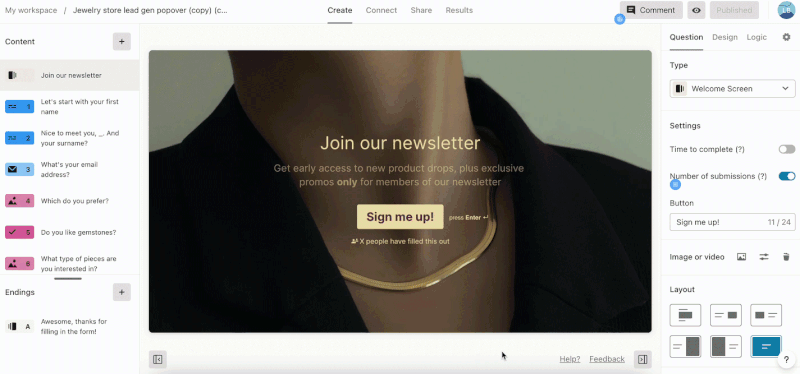 Nift gift card integration 💝
Yay for new integrations! Some of you have asked for a way to give your respondents gift cards as a token of your appreciation, and now you can with Nift! Using this integration, you can add a link on the ending screen of your form to direct your respondents to claim their Nift gift card. Nift automatically uses the theme you've added to your form to blend the Nift gift card information onto the ending page. 

Read more about this integration and how to set it up here.
Wordpress plugin update 🔌
We've completely rebuilt the Wordpress plugin from the ground up. Welcome to a fresh new look that offers more form customization options, chat embeds, and support for custom launch options in popup or sidetab modes. 
If you're already using Typeform for Wordpress, make sure to update your plugins for version 2.0
Take a peek at the updates in the video below, special thanks to our developer Antonio for the demo!
💎 That's all, folks! As always, let us know how these features are working for you and send any feedback our way.