Hi Everyone! 
It was just brilliant to be a part of last week's VideoAsk webinar and to see so many amazing questions rolling in! We didn't have time to answer them all live, so as promised we saved them all up so we could answer them here - if you have any comments or feedback, we'd love to hear it!
Embedding your videoask

 
Can you embed in apps? –  Natalia Naranjo
There are a few different options for embedding a videoask, the most common are embedding on a webpage as an iframe or widget but videoasks can be used in native apps by loading them in WebViews. You can find out more about setting this up on our help center here 
 
Is it possible to create "video-journeys" based on the landing page of the site the user is visiting? – Alessandro Pesce

We would recommend creating a videoask for each landing page that can be embedded and interacted with directly on the page. You can create a "choose your own adventure" style videoask by using conditional logic to set up a multi-step videoask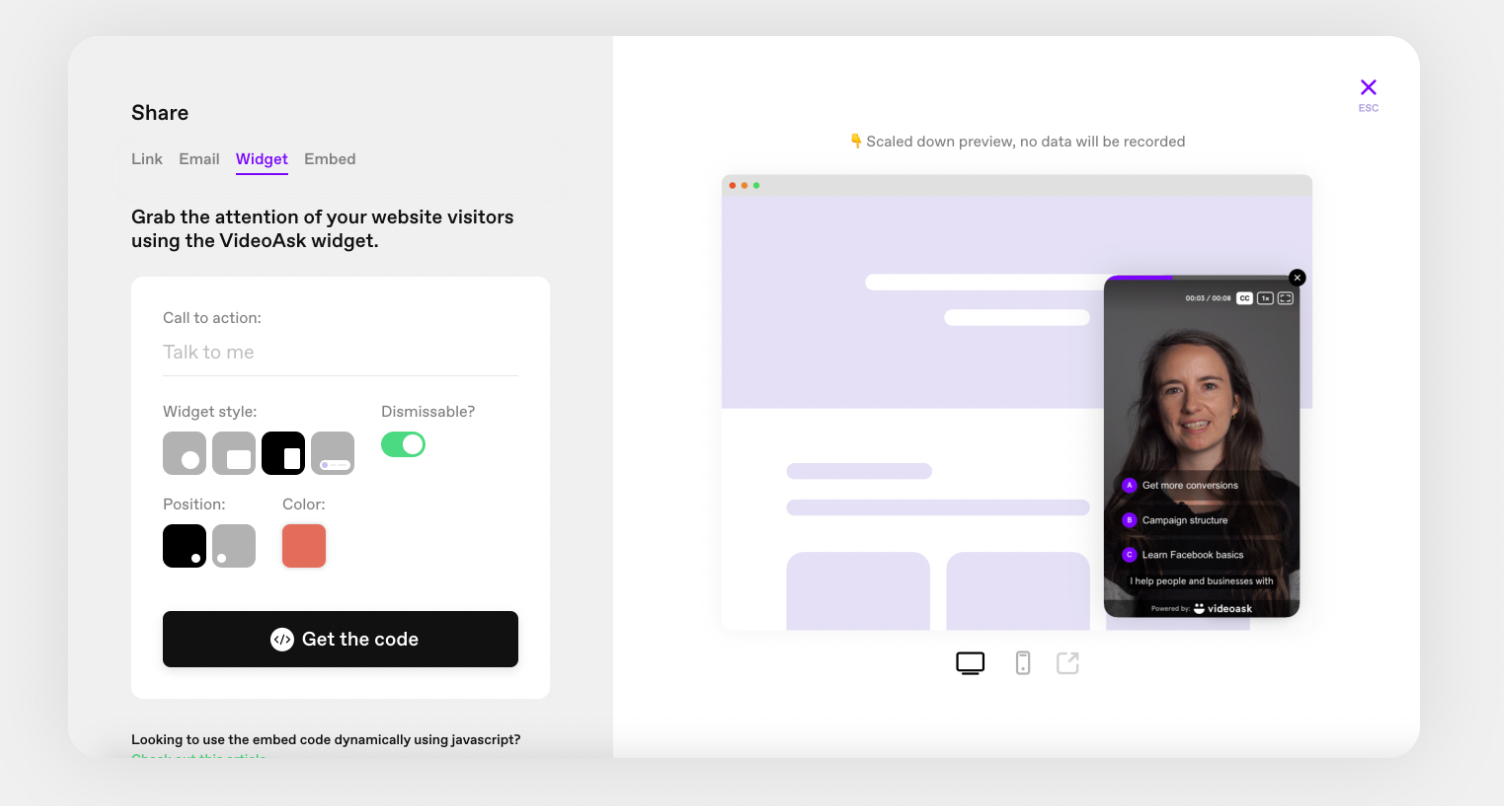 Do you have any way of integrating CRMs with VideoAsk? – Chris Bird

Does VideoAsk have direct integrations with some CRMs? –  Alessandro Pesce
We currently have direct integrations with Hubspot and Salesforce and use Zapier to connect to thousands of different apps. Our integrations team is working on an update to the Hubspot integration which is due to go live in the next few weeks!
Is there an integration to Hubspot? –  Roger Tofft
The latest version of our Hubspot integration is on it's way, but you can find out about the current set up here. It's also possible to schedule meetings with Hubspot which is one of our 4 calendar integrations.
Will there be an integration to embed videoasks into Headsup (from Autopilot)? – Chad Bonner
We don't currently have plans to integrate with Headsup, although it could be similar to our integration with Intercom, we've passed this on as an integrations request to our team and for now you can use Zapier to connect to Autopilot, but there's not a set up for Headsup just yet.
 
Is it possible to integrate videoask into a web app using React? – Anonymous

This question is a bit tricky, and could depend on what you're wanting to do, so feel free to reach out to the support team here if you have more questions. Developers can check out the VideoAsk API here and we have some more Advanced Embed Options available over on the help center, including a handy code snippet library!
 
Does VideoAsk integrate with Slack? – Amanda Lund
We use Zapier to integrate with Slack, and have a help center article here with an example of a Slack set up.
Does VideoAsk integrate with Marketo? – Megan Martin
Not yet, but you can use Zapier to connect the two apps. There's a section within your VideoAsk account where you can connect to other apps and here you're also find a videoask where you can suggest native integrations to the team: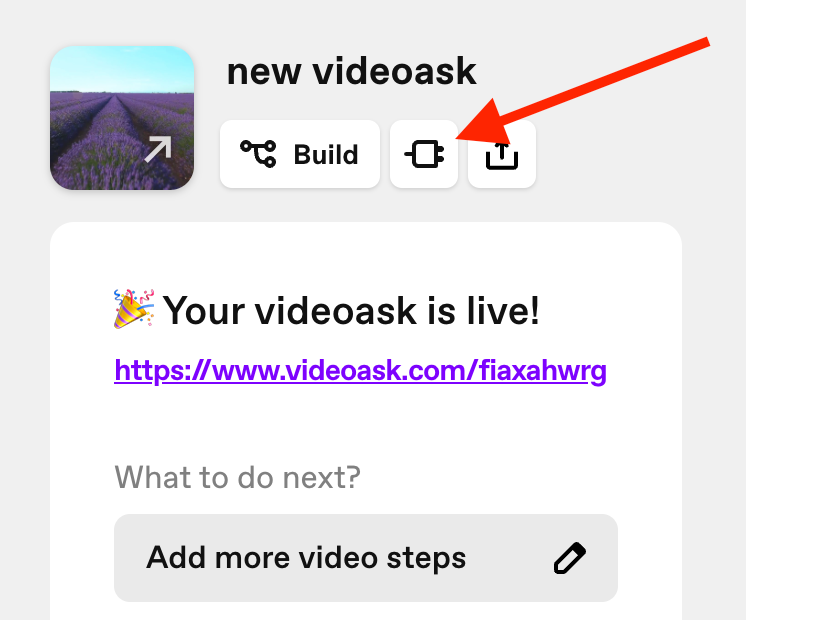 Is it possible with VideoAsk & Salesforce to build a user communication system where customers & sales agents can directly speak to each other? – Niklas Teichmann
We have a direct integration with Salesforce which allows you to track and manage leads. We don't yet have an example of it being used as a communication system between customers and sales agents but this could be an exciting new use case so let us know if you have any questions or feedback about this integration!
 
Are you going to integrate with Integromat, too? – Patrick Blum
Right now we're using Zapier for integrations but it could be something we include or switch to in the future!
How are video responses captured in a Google Sheet integration? Does the sheet capture a url for each response? – Chet Mistry
Yep! Google Sheets will capture the url for the video response, check out the help center article here for more info. If you want to collect the mp4 file of the response, you can download this directly from VideoAsk or use Zapier to send the files directly to Google Drive or Dropbox. 
Is there an integration with Mailchimp or fFowdesk? – Hali Kimball
We don't have a direct integration yet, but you can definitely use Zapier to connect to both of these platforms.
Sharing your videoask
Can I use a VideoAsk in Slack? – Abigail Kucks
You can share a videoask in Slack via the share url which is generated once you've created the videoask. It works in a similar way to sharing the link via text message or on social media and will bring up a meta image of the videoask, users will then need to click on the link to open and interact with it.
Can I integrate with email? – Salvatore Milazzo

There are a few different options for sharing and integrating your videoask via email. You can create a partial embed of the videoask within the body of the email and either share to one person or to multiple people, which is handy if you use an email marketing tool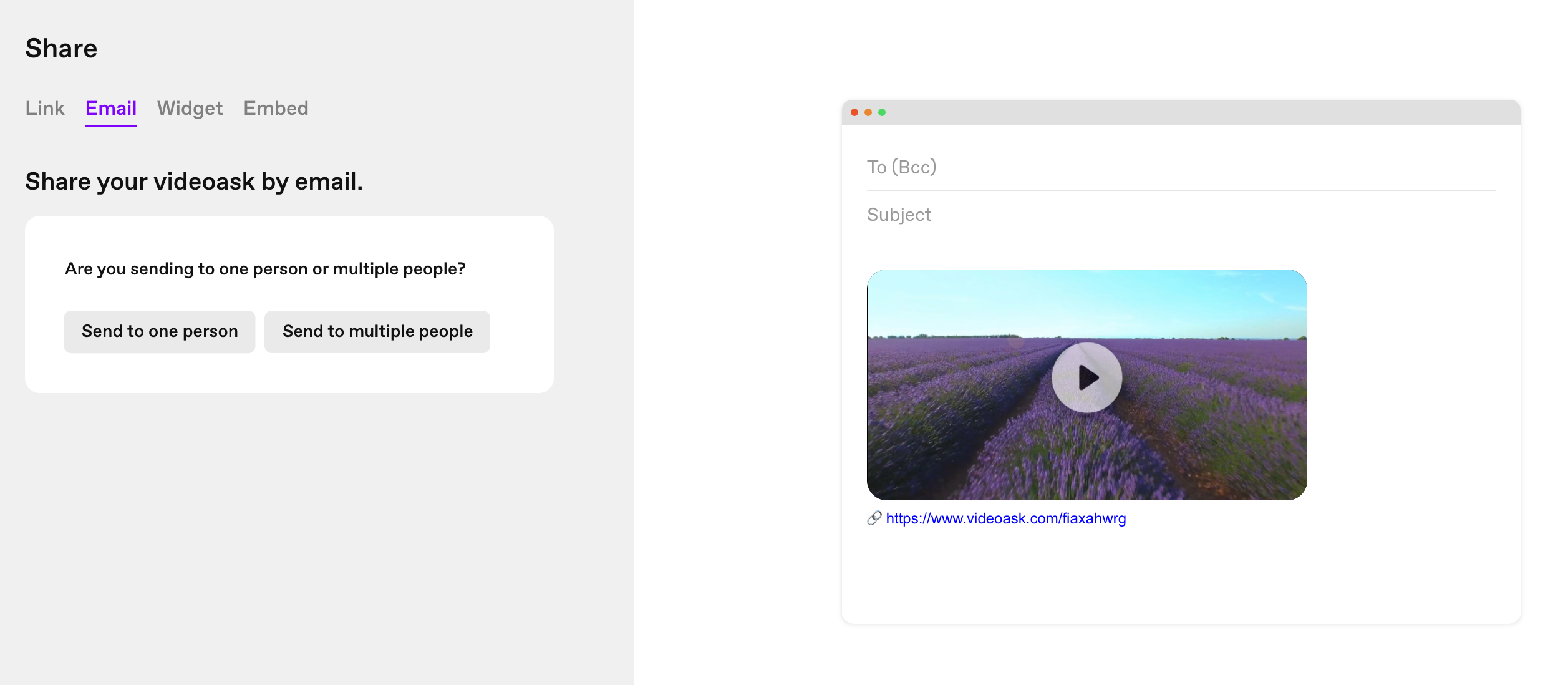 Split Testing
Have you tried split testing this with something like Intercom in terms of engagement on a website? – Andy Cole
We haven't tried split testing yet, although we are starting to speak with more users to gather research and information on how they are using videoask. We also have an integration with Intercom so you can enhance your chat by adding a videoask.
Do you have any insights on A/B test results for a typeform vs. videoask form on conversions? Specifically for B2B companies – Megan Martin
We have been conducting some research but right now it is being done on a case by case basis. What we have discovered is that conversion can depend on certain factors and these can influence whether it's better to use VideoAsk or Typeform. 

Engagement and results (CTR) are not higher in one vs the other, it might be dependent on:
 
The medium their business is based on - if their business is based on video already, chances are conversion is better with VideoAsk vs Typeform

The audience they target (some audiences interact more with video)

Type of business (personal brands seem to work well with video)

We've also seen great results when people use VideoAsk to warm up their prospects with interactive FAQs, interactive video product/service intros…. and then capturing the leads with Typeform


 
Can you do A/B tests, trying different videos and compare the response? – Corné Klopper

Definitely! Once you have created a videoask you can duplicate it and edit the copy making it easy to compare the responses and interactions. Check out how to duplicate a videoask here
 
VideoAsk best practices
In case of long questionnaires/assessments is it possible that the candidate can stop answering in one day and the next day to start where he/she stopped before? – Anonymous
VideoAsk works slightly differently to Typeform in that it collects answers to steps as it goes along, rather than waiting for the form to be completed and submitted. Because of this it's possible for the videoask to "timeout" if it's left idle for too long, so we would recommend answering a videoask in one go to limit incomplete responses.
Do people respond more in video, audio or text? – Jonathan Appelstein
We use VideoAsk for support and have an integration set up with Zendesk, we find we get a real mixture of video, audio and text messages come through - depending on the question being asked or maybe the location or situation of the person getting in touch. As the creator of the videoask you can only reply in video format. Often someone may get in touch with us and begin the conversation in text but after a few interactions switch to video!
How does it work in low connectivity places? I'm thinking of rural areas with less than excellent internet connection – Paola Flores
We would recommend having a strong internet connection to use VideoAsk, as sometimes if there are problems with connectivity it can affect the recording and transcoding process.
 
Typeform vs VideoAsk!
Why would you still use Typeform, doesn't VideoAsk have all question options? – Corné Klopper
There are definitely some similarities to the two products, but they also have several different answer types, features and integration options so it may well depend on your use case and possibly your audience as to which you think will be more effective.
What are the best use cases for a videoask vs. a traditional typeform? – Chad Bonner
We've seen some great feedback from recruiters who have switched to using VideoAsk as a way of screening and getting to know candidates more efficiently.
It can be a great tool for sales and lead generation, allowing potential new customers to get to know you before even having a conversation with you. 
It's becoming more popular in the world of real estate and we've seen an increase in users with fitness and coaching businesses using the calendar booking integrations and for collecting feedback and testimonials.
So that's it! It's a pretty versatile tool and we're excited to see how people are using it so do get in touch and let us know what your use case is! Thanks for sticking with this - and having so many fantastic questions - if you have any follow ups we'd love to hear them!