Hi everyone! Can you believe we're already in November? 😱 
Let's get cracking with this month's updates as the VideoAsk product team have been rather busy again!
Reply to many
The big news this month is the launch of the Reply to many feature! 🎉
This means, you can now send the same message to multiple contacts at once, making your reply time more efficient! 
📹 Here's how it's done:
This feature could be useful for replying to event submissions and course applications, or sending replies to candidates answering your recruitment videoasks. Check out the guide here to learn more:
Adjustable reply length
Previously you could only control the time limit for an initial response to your videoask (so the first time someone answers you). If you then continued with an asynchronous conversation respondents could leave lengthier replies due to the default settings (up to 300 seconds).
Now you can also set a time limit for any follow up responses, so if you only ever want 30 second replies, you've got the power to enforce it! 

Just head to Settings where you'll find the option to set the Time limit for video/audio replies:
Footnotes

Another cool new feature has landed in the contact form! We've added a Notes section so you can include any fine print related to your videoask without needing to add in a consent checkbox.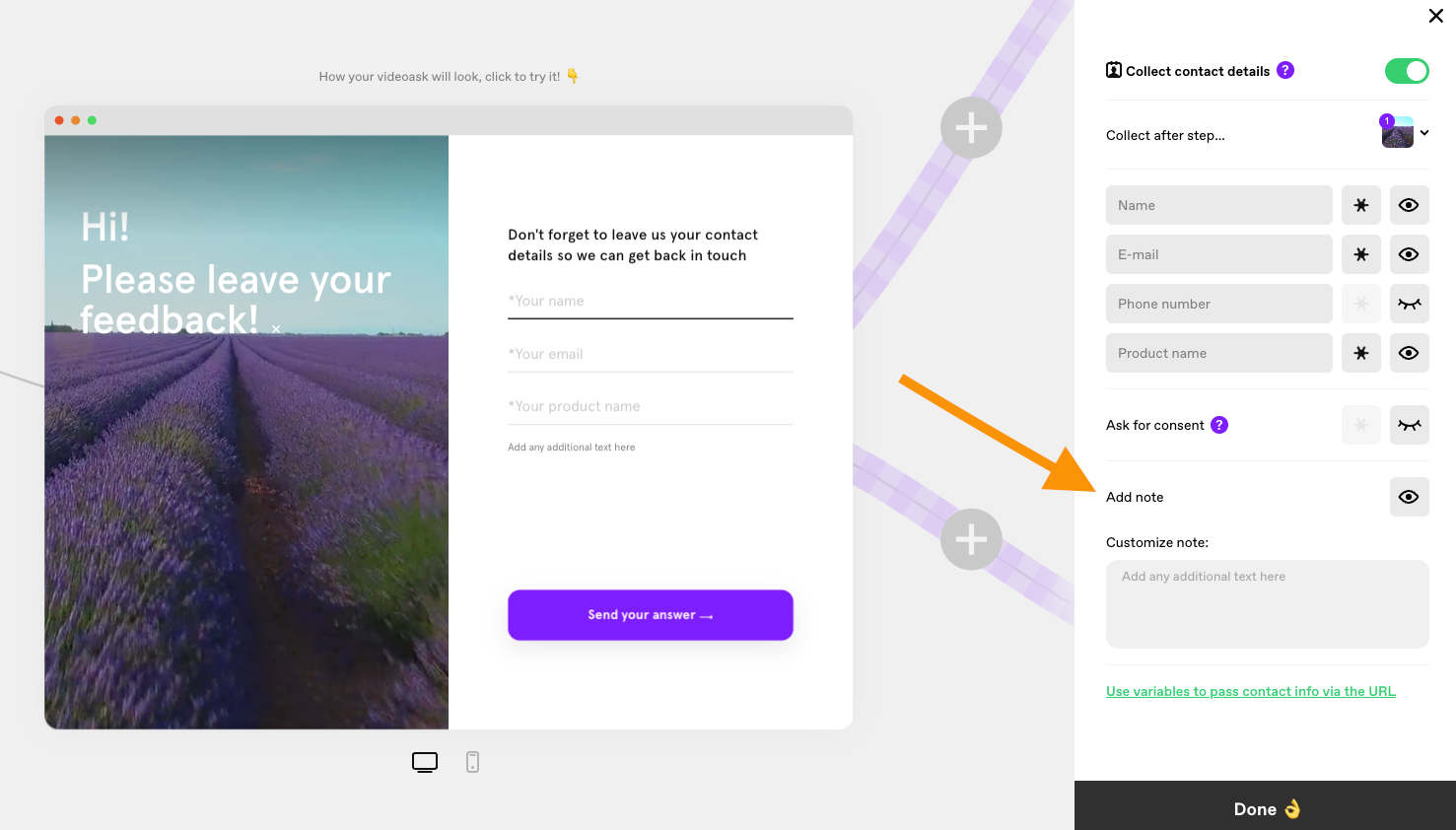 Contextual help
If you're an avid reader of the VideoAsk Product Digest, you'll know we've been making lots of changes to the builder this year to help make it easier when you're creating those awesome videoasks. 
📹 Here's a short demo of some of the handy tool tips and highlights we've added:
We recommend our Help Center article on getting started with the VideoAsk builder if you're new to VideoAsk 🤓
Branding for private videoasks
Brand plan users, in case you missed it, we have updated the private videoask feature to include branding and logos.
Here's a quick community guide on how to use this feature:
Don't forget to let us know what you think of the latest VideoAsk updates in the comments below! ⬇
Videoask of the month!
Go check out the November videoask of the month, featuring a delightfully delicious example of how creative you can get with your VideoAsk contact forms! 🍩
Join the VideoAsk Feedback Club!
We're looking for active VideoAsk creators to help us shape the future of VideoAsk. If you want to be part of an exclusive group of testers and feedbackers, sign up here 👀