I've finally figured it out - it's only taken me about two and a half years!
How to create a 'radar' chart in Google Sheets for a report - based on Typeform submission. Or any other graph that is.
Here's the use case - or at least one of them:
You are using a scoring quiz to evaluate some aspect of the respondent and want to show a graph of the output. Say, 5 categories of an assessment or something similar.
You want to send them a customized document after they submit their data, complete with a graph of the results.
Here's the toolset:
Typeform
Google Sheets
Document Studio (yeah that one again, lol)
If you don't have Document Studio, I strongly recommend getting it as it will help generate a lot of customized reports from your Typeform data - pushed into a merge template, converted into PDF format and attached to an email.
Now I will be honest - I have not explored all the formatting options inside the Google Sheet charting options. BUT I wanted to get this wee bit of a note out to you folks while the seven other voices in my head are doing the happy dance.
In any event, let's check it out.
I want to turn this input from my typeform:

into a PDF report with graphs that look like these: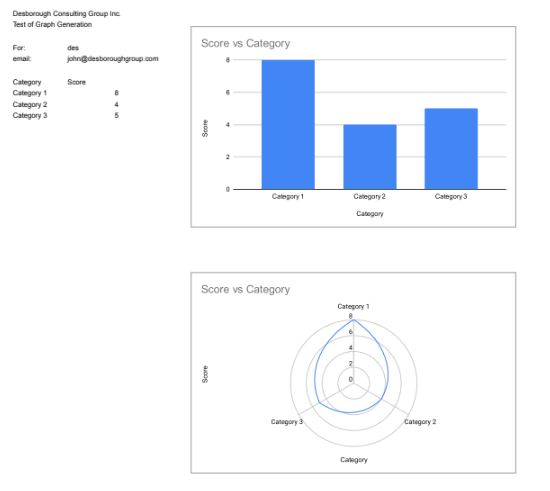 That's a screenshot of the PDF file - a really simple example of a dynamic report - that shows a 'customized report' for the respondent complete with the two different graph types.
I can't believe it took me over two years to figure this out!
I've put all the steps into ​this Google Doc​ - saving screen real estate - for you.
There's also a video for this ​at this link​. 
Check these out and let me know!
Hopefully you haven't been waiting for two years to figure this out.... 
Cheers
des