Hey Community friends! 😁
A lead capture/qualification videoask is a great way to engage your audience. You can make it fun and informative whilst offering potential leads a chance to get to know you via the power of video.
There are lots of different ways to use a quiz. For example, you might want to combine it with product matching on your website, or to run a quick competition to attract subscribers to your mailing list.
For the purposes of this example I am a health coach and I've decided to embed a fun summer smoothie quiz on my website. I'll be emailing participants a free recipe at the end, so it's not giving away any of my trade secrets, but it allows potential new clients to warm up to me. The answers to the quiz will then help to better inform any future email marketing I decide to do.
📹 Here's the videoask example I created:
(Feel free to click through, it's set to preview mode so answers won't be submitted and I won't be collecting your contact details 🤓)
📹 And here's how I created it:
👀 If you'd like to learn more about scoring, check out this Help Center article on how to set it up. You may also want to edit the interface text of your videoask, to better suit your brand and business.
Where do I go from here?
Once you've created your videoask there are various ways you can share it. You may want to embed it on your website or landing page, so passing traffic can interact with your videoask. You could also share it via email, text message or social media - depending on where your audience hangs out. 
Think about what you want to do with those leads, for example, you might want to send your results to Google Sheets or Airtable. Check out our integrations list or use Zapier to help build out your workflow.
Following up with leads
VideoAsk is an asynchronous conversation tool, so be sure to collect contact details so you can reply directly via VideoAsk! Don't be afraid to kick off a conversation - strike while the lead is hot! 🔥
If it's been a few weeks and you'd like to reach back out to a contact, why not send them a personalized direct message? You don't need to go back through the inbox to find the conversation, just click on their contact details and send a follow up video message. 👋
Advanced features
If you want to take your quiz one step further, you can try adding one of these features to your videoask to help manage or qualify your leads:
Use a calendar integration to book a time to chat 

🕑

VideoAsk has integrations with Calendly, Acuity, ScheduleOnce and HubSpot Meetings. You can select the calendar answer type from the drop down list in a step and add in your calendar link.

Using this feature means leads can easily follow up with you for a longer chat at a convenient time, and they have the added benefit of feeling like they already know you from your videoask!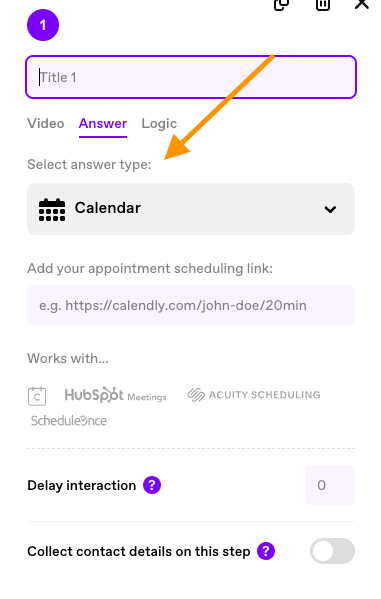 Jump on a live video call 

📲

If you're looking to close a deal as fast as possible you might want to try out the live call answer type. You can use the quiz to prioritise your leads via advanced logic and then those with high scores can be sent to a step with the option to start a live video call with you.



Why wait till next week? Sometimes it's good to grab their attention whilst they're still on a high from completing your videoask!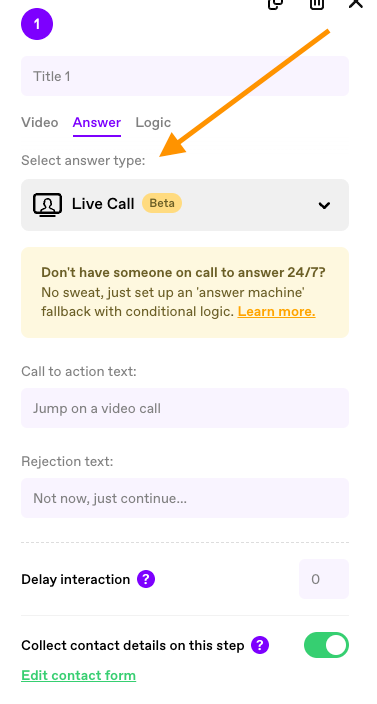 Have you tried using VideoAsk for lead capture? We'd love to hear your questions and feedback in the comments below ⬇